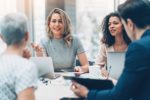 Budgeting. Management. Strategic Planning. Wharton Online can bring you the skills you need to get ahead. In the past year, there were nearly 16,000 job listings for CEO. The most requested skills for this position were budgeting, management, and strategic planning. Fairly straightforward, until you try to prove to the hiring committee that you have the ...Read More
Questions?
We want to help you take your learning to the next level.
Click below to begin the conversation.
Stay Updated Be the first to know about our latest programs and courses