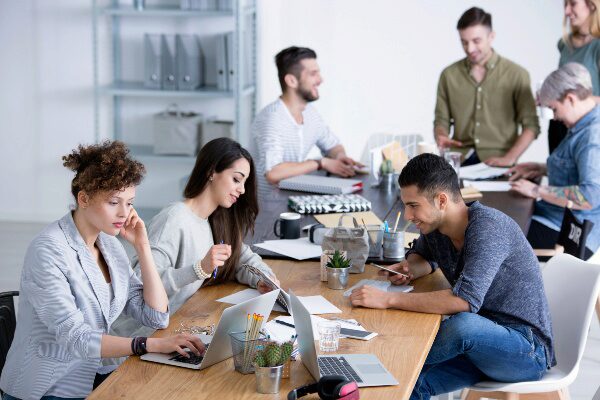 Marketers and advertisers create and cultivate interest in services, products, social causes, and other things. 
Digital marketing is taking the lead as the preferred marketing medium over traditional mediums, such as postal mailings, telephone calls, and magazine ads. That makes sense considering that the digital space is where a majority of prospects spend a notable amount of time most days. 
From analytics expertise as a search engine optimization specialist to creativity and storytelling in content marketing and social media, there are multiple paths you can take in the digital marketing industry.
Here are six reasons to consider pursuing the digital marketing career path. 
1. Digital Marketing Roles Are in High Demand
According to the 2022 CMO Survey, 57.1% of organizational marketing budgets were allocated to digital marketing spending, a percentage that's expected to rise. There is considerable opportunity in the digital marketing field, whether you aspire to work for a marketing agency, an in-house corporate marketing department, or as a freelance or contract marketer.
Advertising, promotions, and marketing managers are in high demand throughout the United States. According to the U.S. Bureau of Labor Statistics (BLS), the job outlook for these roles is expected to grow 10% between 2021 and 2031. That's faster than average in comparison to all occupations. In 2021, there were 347,000 of these jobs in the US, the BLS says. Between 2021 and 2031, an additional 33,700 jobs are expected to be added. According to the CMO Survey, marketing budgets comprised 11.7% of overall business budgets.. 
2. Above-Average Salary Potential
There's high earning potential for marketing managers. According to the BLS, in May 2021, the median annual salary for marketing managers was $135,030 in the U.S. That's much higher than the annual mean wage for all occupations, which was $58,260.
Depending on the industry, wage potential rises even more. The BLS reports the median annual wages for marketing managers in top industries in 2021 were:
Professional, technical, and scientific services: $155,470

Management of enterprises and companies: $155,030

Insurance and finance: $151,870

Manufacturing: $132,450
Marketing managers typically need a bachelor's degree to obtain these positions. The median annual earnings for those with a bachelor's degree in 2021 were $69,368, marketing managers can provide higher earning potential based on educational attainment, the BLS says.
3. Variety of Digital Marketing Careers
From developing creative content to analyzing data to make strategic decisions, job duties vary widely in the digital marketing field.
Digital marketing teams are often highly collaborative. Because of this, many digital marketers eventually specialize in multiple disciplines. This often allows them to transition to a different specialty based on their evolving interests. 
Download Digital Marketing Guide for Non-Digital Marketers to learn more about digital marketing careers. 
Some of the most in-demand digital marketing careers follow.
Search engine optimization (SEO) specialist roles 
SEO specialists help web pages display higher in search results on search engines such as Google. They optimize websites for keyword search and user experience. This helps ensure that a helpful website will show up in search engine results that are relative to a user's search query. 
Content marketing specialist roles
Content marketing specialists help manage web content, including blogs, videos, e-books, podcasts, infographics, and case studies. They might manage teams of writers, editors, and content creators. They might also help design, create, and edit the content.
 Social media marketers roles
Social media marketers manage strategies for social media channels such as Facebook, Twitter, Instagram, TikTok, and LinkedIn. Other duties may include: 
Managing social media communities

Providing customer service through social media

Creating social media content

Interacting with followers.
Paid media marketers roles
Paid media marketers manage paid advertising campaigns on digital channels such as Google Ads, Facebook Ads, and banner advertising spots. They analyze ad performance, edit ads, and determine ad placements to maximize revenue and results.
Email marketing roles
Email marketers manage email campaigns and sometimes help write promotional emails. They strategize what messaging goes to which audience segments and at what time intervals. Digital analytics tools help guide their email marketing strategies.
4. Working in Diverse Industries
Digital marketers work for startups and small businesses all the way up to Fortune 50 companies. Digital marketing plays an important role in most organizations today. According to the BLS, the most prominent employers of marketing managers in 2021 were:
Professional, technical, and scientific services: 22%

Management of enterprises and companies: 12%

Insurance and finance: 11%

Manufacturing: 7%

Wholesale trade: 7%
5. Entrepreneurship and Remote Work Opportunities
Digital marketers flourish in the freelance arena. There are also many opportunities for remote or hybrid work. 
According to a 2021 study of 15,000 freelancers by PeoplePerHour, content writers, graphic designers, SEO specialists, and social media managers were among the most prevalent employed positions.
Since digital marketers can do most of their work in online environments, it's a great way to build a solopreneur career or start your own business if that's your goal. If you want the freedom to work for yourself in a remote environment, the digital marketing field may be worth further exploration.
6. Transferable Skills
Digital marketers use a variety of digital marketing skills to persuade users to take a specific action, such as buying a product or service or clicking a link to get more promotional information. The skills may vary, depending on which role they assume. 
As a digital marketer, you can learn much about a variety of business aspects that may easily transfer to other business-related roles. 
Depending on a digital marketer's role, skills may include:
Problem solving

 

Communication

 

Teamwork and collaboration

 

Writing and editing

 

Data analysis

 

Strategy and leadership

 

Creativity
Get Prepared With a Digital Marketing Certificate
Wharton Online has several convenient training options for those who want to advance their digital marketing careers or enter the field. Our Digital Marketing Certificate online program offers six-week courses in specializations, including:
Learn more about all our online digital marketing programs