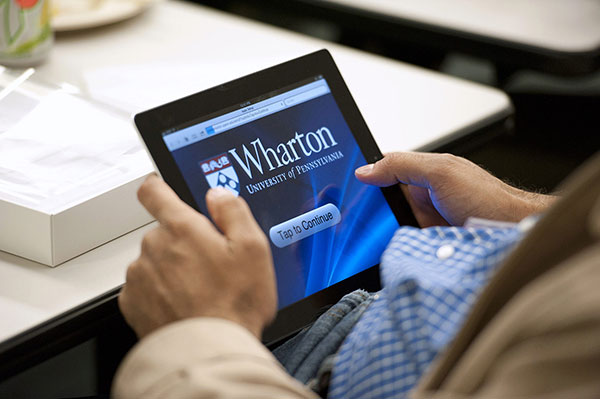 About Wharton Online
Wharton Online, the Wharton School's digital learning platform, makes high-quality business education available to learners anytime and anywhere. From certificate programs that issue Continuing Education Units to specializations across a variety of business and management topics, Wharton Online's offerings equip learners to advance their careers. And with 100K certificate-earning learners and more than one million total learners who have accessed courses, Wharton Online boasts an impressive network of business leaders around the globe.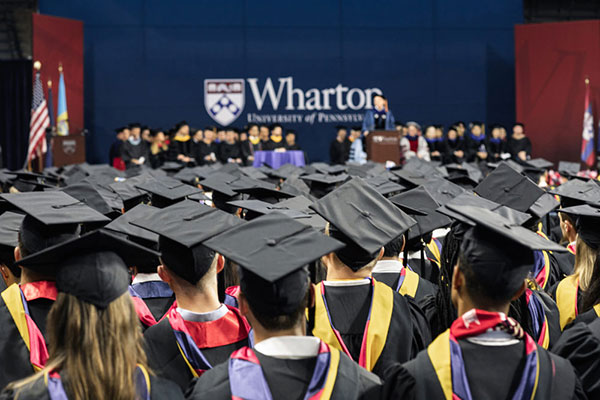 About the Wharton School
Founded in 1881 as the first collegiate business school, the Wharton School of the University of Pennsylvania is recognized globally for intellectual leadership and ongoing innovation across every major discipline of business education. With a broad global community and one of the most published business school faculties, Wharton creates economic and social value around the world. The School has 5,000 undergraduate, MBA, executive MBA, and doctoral students; more than 13,000 participants in executive education programs annually; and a powerful alumni network of 98,000 graduates.
WHAT COURSES ARE OFFERED?
Please check our home page for an up-to-date list of all courses offered.
WHEN ARE COURSES OFFERED?
Courses are offered approximately every 30 days, or by arrangement for large groups.
WHO ARE THE COURSES DESIGNED FOR?
Our courses are designed for working professionals, and cover critical business topics in-depth, to give business learners the skills they need to attain their performance goals. A Bachelor's degree (or equivalent) is suggested, but not required.
WHAT LANGUAGES ARE THE COURSES OFFERED IN?
Courses are offered in English with English captions and transcripts. Captioning in other languages may be available upon request.
HOW DO I REGISTER FOR A COURSE?
Visit https://online.wharton.upenn.edu and decide which course or program you would like to enroll in. When you are ready to register, click Enroll Now to select your course(s) and the preferred session start date. Upon registration, you will receive acknowledgement and further instructions about payment. If you are registering for a course which is currently running, please note that you will receive your first course communication and login instructions within 1-2 business days of your payment.
HOW MUCH DOES A COURSE COST?
Our courses and Programs range from $400 to $4000, depending on topic. Discounts are available for buying in bulk. Please see the programs page for more details.
WHEN DOES MY PROGRAM START OR END?
You can begin the program or courses as soon after you enroll. You have the option to enroll in the program or in individual courses. All courses are self-paced. You can learn on your schedule within the allowed time period.
There is an interactive assessment, assignment, or case study at the end of each module.
HOW LONG DOES EACH COURSE LAST?
Each Wharton Online Professional Education course is designed with 4 modules of content, to be completed in 4-6 weeks.
WHAT IS THE TIME COMMITMENT PER WEEK FOR YOUR COURSES?
Designed with the busy working professional in mind, Wharton Online courses feature approximately 1-2 hours of lecture video and 1 hour of  discussion/assessment per week. Each course contains 10 hours of instructional content.
WHAT DO I RECEIVE WHEN I COMPLETE THE COURSE?
Learners who successfully complete the course will receive a digital credential from Wharton Online.
HOW DO I RECEIVE CEUs FOR MY COURSE?
To receive CEUs for your Wharton Online course(s), you must complete all coursework and pass all assessments in a CEU-eligible program of study with a score of 70% or above. Upon successful completion, your digital credential provides evidence of your eligibility to purchase the CEU.
For more information on Wharton Online's CEU policies and eligibility, read our CEU page.
HOW ARE CEUs CALCULATED FOR MY COURSE?
Continuing Education Units are calculated based on learning contact hours as follows: 10 contact hours = 1 CEU. Each Wharton Online course is equal to one CEU.
For more information on Wharton Online's CEU policies and eligibility, read our CEU page.
HOW DO I EARN CONTINUING EDUCATION UNITS?
Wharton Online is certified by IACET to offer Continuing Education Units (CEUs) for its courses. A Continuing Education Unit is a measurement used in professional education programs, and may be required by your company for tuition  reimbursement. A CEU is not an academic credit; however, it is a nationally recognized method of quantifying professional development and training activities.
TO EARN CEUs:
• Complete all required coursework (lectures, assessments and discussion forum posts)
• Pass all assessments with a score of 70% or above.
• Pay an administrative fee of $75
Upon completion of the course and receipt of your payment, you will receive a digital credential with your CEUs that you can submit to your employer, licensing body or training department.
HOW LONG DOES WHARTON ONLINE RETAIN MY CEU RECORDS?
Wharton Online keeps records of CEUs for seven years. For more information on Wharton Online's CEU policies and eligibility, read our CEU page.
HOW DO I KNOW IF MY COMPANY or ORGANIZATION ACCEPTS CEUs?
Please consult your training department or licensing authority directly to see if these CEUs may be applied toward professional certification, licensing requirements, or other required training or continuing education hours. For more information on Wharton Online's CEU policies and eligibility, read our CEU page.
WHAT DO I HAVE TO DO TO SUCCESSFULLY COMPLETE THE COURSE?
Each Wharton Online course contains assessments, some of which are optional, and some of which are required. Learners must receive a score of 70% on required assessments to successfully complete the course. Learners will have multiple attempts to pass the required assessments.
WHAT ARE THE TECHNICAL OR BROWSER REQUIREMENTS?
In order to access our courses, you must have a connection to the Internet. Videos are only available via online streaming – you will not be able to download videos for viewing offline. Please take note of your company's restrictions for viewing content and/or firewall settings. Our courseware works best with current versions of Chrome, Firefox or Safari, or with Edge. For the best possible experience, we recommend switching to an up-to-date version of Google Chrome. If you do not have Chrome installed you can get it for free
here: http://www.google.com/chrome/
At this time, Wharton Online does not fully support access with mobile devices. While many components of your courses will function on a mobile device, some may not. If you experience any technical difficulties with the course site, including problems viewing videos or other features, please email whartononline@wharton.upenn.edu
WHAT IS YOUR REFUND POLICY?
Cancellation requests must be submitted to whartononline@wharton.upenn.edu. If you submit a cancellation request within 7 days prior to the course start date, you will not be eligible for a refund.
Please note that the first day of the course is not considered one of the days prior to the course start date. To submit your request, please include your full name and order number in your email request. Refunds will be credited to the credit card used when you registered and may take up to two billing cycles to process. Wharton Online has no obligation to issue a refund within 7 days prior to the course start date, but if you believe a refund is warranted, please email us at whartononline@wharton.upenn.edu
CAN I USE MY ONLINE COURSEWORK FOR CREDIT AT WHARTON?
No. Wharton Online courses do not include course credit towards a degree, nor do they make you a student at Wharton, nor an alumnus of Wharton. Instead, the earning a Certificate proves you met the passing criteria of your rigorous online course offered by Wharton Online Professional Education.
WHAT IS THE DIFFERENCE BETWEEN THE WHARTON'S ONLINE PROFESSIONAL EDUCATION COURSES AND THE COURSES AT WHARTON?
Wharton Online's courses provide an understanding of key business concepts, basic fluency in the language of business, and are taught by Wharton faculty. While they are based on courses offered at Wharton, they are shorter, and focus on critical skills that are a requirement for success or further study in business. Courses offered to students enrolled at Wharton degree offer deeper examinations of topics, highly immersive interactive experiences, faculty-student interaction, additional opportunities for study, extra-curricular activities, career management and more.
WILL MY PERFORMANCE IN WHARTON ONLINE PROFESSIONAL EDUCATION COURSES HELP ME GAIN ADMISSION TO WHARTON'S DEGREE PROGRAMS?
While successful completion of Wharton's online courses demonstrates fluency in the language of business, it is only one element of a highly competitive selection process. Many other factors will determine a successful application to Wharton. For more information about Wharton's application process, click here.
IS TUITION ASSISTANCE AVAILABLE FOR THESE COURSES?
Tuition Assistance is not available at this time
ARE WHARTON ONLINE COURSES ACCESSIBLE TO INDIVIDUALS WITH DISABILITIES?
Wharton Online's mission is to make world-class business education accessible to the world. We make accessibility to all a top priority—by ensuring that our websites, platforms, courses, and learning assets conform to the Web Content Accessibility Guidelines (WCAG) Section 2.0 AA, published by the WorldWide Web Consortium. In recognition of all audiences who may need or benefit from such measures, we provide professional-quality video captioning and transcription, portable review slide decks with high contrast, and screen-reader compatibility as standard practice in all Wharton Online courses. Furthermore, we offer a consistent look and feel across all our course offerings, allowing for a predictable navigation experience. Should further accessibility needs be raised for any reason, Wharton Online will provide all appropriate accommodations. Wharton Online welcomes any and all inquiries, feedback, and requests for assistance from our clients and learning communities. You can reach out to us at whartononline@wharton.upenn.edu at any time.
Questions?
We want to help you take your learning to the next level.
Click below to begin the conversation.