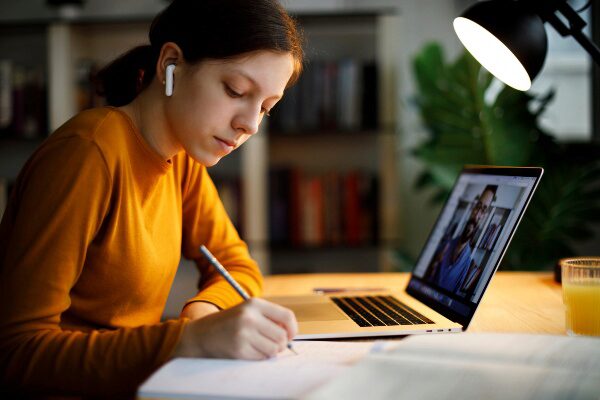 Liberal arts degree programs are often dismissed for being too general—but you could argue that this is one of their advantages. With a degree in liberal arts, you get a well-rounded education that exposes you to a wide range of subjects. 
Careers for liberal arts majors are extremely diverse. Liberal arts programs tend to focus heavily on soft skills such as problem-solving, communication, and adaptability, giving you the foundation you need to pursue a variety of career paths. Moreover, a liberal arts degree can prepare you for further education such as advanced degrees or certificates. Wharton Online's online programs and certificates can be a great way to supplement your liberal arts education and give you a headstart in your career. 
What Is a Liberal Arts Major? 
Liberal arts is an umbrella term that includes fields of study within the arts, sciences, and humanities. Depending on your school, you may be able to major in liberal arts directly, or you may have the option to choose from a variety of majors that fall under the liberal arts category. Some common subjects include:
English 

Communications 

Sociology 

Psychology 

History 

Philosophy

Mathematics 
Most liberal arts degrees are interdisciplinary, meaning they cover an assortment of subject matters. The broad scope of liberal arts is part of what makes it so attractive to students. In many cases, students have the freedom to choose classes that interest them the most, without committing to a narrow field of study.
Liberal arts degrees—whether or not they have a specific concentration—can prepare you for the workforce by providing you with general knowledge, honing your writing and communication skills, and sharpening your critical thinking. 
Best Wharton Online Programs for Liberal Arts Majors 
Many graduates with liberal arts degrees may not realize what type of career they'd like to pursue until later in life. Thankfully, a liberal arts education gives you a strong foundation to take your career in many different directions. To fill in any gaps in your education, online certifications like those offered by Wharton Online can help. 
Related: 7 Reasons Why It's Never Too Late to Start a New Career
Our online programs and certificates can provide you with the fundamentals you need to start a career in business or management. Whether you're looking to explore a single subject, want to help your resume stand out, or are hoping to get ahead on future academic or career pursuits, Wharton Online offers several courses that are a perfect fit for those with a liberal arts background.
Business Foundations 
Our Business Foundations Certificate is designed to teach you the core business skills you need to jumpstart your career. In this program, you'll develop literacy in marketing, finance, accounting, operations and more. The certificate program includes five courses that will provide you with an introduction to core business concepts. In the Capstone Project, you will prepare a proposed solution to a challenge faced by a real company or organization. 
This program is a great choice for individuals who want to change careers but do not have any formal education in business. Understanding the fundamentals of how businesses operate can prepare you for the real-world situations you'll encounter after joining the workforce. By the end of the program, you'll have the know-how to address business challenges like a seasoned professional. 
Digital Marketing
According to the Bureau of Labor Statistics, marketing managers typically need a bachelor's degree as well as work experience in advertising, marketing, promotions, or sales. That said, it is not required that your degree is in marketing. If you took classes in writing and communication during your liberal arts education, you may be well-suited to move into a digital marketing career. The BLS lists analytical skills, communication skills, and creativity as among the most important qualities for aspiring marketers. 
In Wharton Online's Digital Marketing Certificate program, you'll learn the key marketing skills that are in-demand today. Topics covered in the program include marketing analytics, the value of customer relationships, consumer psychology, and social media strategy. 
Related: Learner Uses Digital Marketing Certificate Program to Transition Into the Virtual Event Space
Business Strategies for a Better World 
If you want a career where you can make a significant social impact, our Business Strategies for a Better World Specialization may be right for you. This online program teaches you how to apply effective business strategies to real-world problems in order to make a tangential difference in society. 
Throughout the program, you'll learn about global practices and trends and how they affect labor markets, financial systems, and geopolitical relationships. Because these courses build upon sociology and philosophy concepts and apply them to modern-day business practices, this program can be a great fit for learners with a background in liberal arts. 
Business Analytics
Analytics may seem intimidating for learners who majored in non-technical fields such as liberal arts, but understanding how companies collect and use data can be a great way to grow within your career. Wharton Online's Business Analytics program is designed with beginners in mind, providing an overview in customer analytics, operations analytics, people analytics, and accounting analytics. The courses within this program explain basic analytics concepts and provide real-world examples of how companies use these insights to influence their decision-making.
According to O*NET OnLine, some of the top skills required of business intelligence analysts include critical thinking, writing, active listening, and problem-solving. If you hold a degree in liberal arts and are interested in expanding your technical knowledge, you may want to consider a career in business analytics.
Entrepreneurship 
You may not realize that you want to start your own business until you've already graduated and joined the workforce—that's where Wharton Online's Entrepreneurship program comes in. With this online program, you'll develop an entrepreneurial mindset and hone the skills needed to start a business or pursue growth opportunities within an existing organization. 
No matter what type of degree you have or what industry you work in, our Entrepreneurship program can give you the training you need to create and develop new enterprises. 
Related: Can You Run a Business Without Going to Business School?
Start Your Business Education With Wharton Online 
A career in business can be a great fit for liberal arts graduates, but sometimes you may find that you need additional education to land your dream role. If you want to gain formal business education without completing a full degree program, Wharton Online's Business Foundations Certificate can help. 
Taught by Wharton's award-winning business faculty, this 100% online program will teach you the business fundamentals you need to know to transition to a new career or continue your professional education. Explore the certificate program, or request more information today.