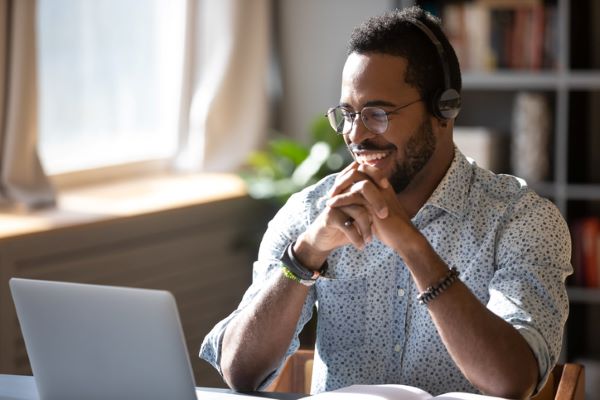 Deciding whether or not to invest in your employees' finance training through formal online finance certificate programs, like our Asset and Portfolio Management Certificate Program, is a big decision. You might wonder if the financial investment will be worth it. 
In this article, we discuss the potential benefits of online finance certificate programs in the following areas:
Skill development

Retention and engagement

Consistency and camaraderie

Innovation

Cross-training agility
Keep reading to find out how investing in your finance employees doesn't just benefit them—it benefits your entire company, too.
Skill Development
Training expands your employees' investment knowledge and skills, which benefits your company's overall performance. Through online finance certificate programs with a portfolio management focus, your employees sharpen their skills related to:
Assessing and choosing effective investment products 

Presenting investment management strategies to investors

Managing investment risks through portfolio diversification
As employees strengthen these skills, they find new ways to maximize ROI and offer greater value to your organization. Whether their new knowledge helps them improve reporting, develop a new investment strategy, or boost client satisfaction, your company benefits. 
Related: FAQ Guide: How Does the Asset & Portfolio Management Certificate Program Work?
Retention and Engagement
An increasing number of people are feeling less engaged at work. In fact, nearly 30% of employees were either "dissatisfied" or "very dissatisfied" with their jobs in 2020—up about 7% from the previous year, according to a talent retention report from career platform iHire. 
When employees aren't satisfied with their jobs, they're more likely to leave. For managers, engaging and retaining employees continues to be a challenge. 
According to iHire's report, "few growth or advancement opportunities" was the fifth-most cited reason for leaving an employer. How can you get your finance employees to stay? Well, professional development and clear advancement opportunities were among the top 10 reasons employees would consider staying with their current employer, iHire reports.
Offering corporate finance training through formal online finance certificate programs is an excellent professional development opportunity to extend to employees. It gives them a chance to enhance their investment management skills and shows you care about their growth and development. This can improve retention and employee engagement. 
Benefits of high employee engagement
Gallup, a global analytics and management consulting company, defines engaged employees as "those who are highly involved in, enthusiastic about and committed to their work and workplace." It reports that, compared to employees who are less engaged, highly engaged employees:
Produce better results

Attract new clients

Treat current clients better

Are more likely to stay with their company
Having an engaged workforce is clearly in the best interest of your company. Gallup also reports that engaged employees tend to take accountability for their performance and engagement; when challenges arise, they don't blame others or make excuses. By offering learning and development opportunities, such as online finance certificate programs, you can prioritize the engagement and retention of your employees. 
Consistency and Camaraderie
Investing in corporate finance training programs for your employees enables you to establish consistent training objectives across your organization. This scalability is a key feature of our corporate training programs. When employees complete the same online finance certificate, for example, they meet the same learning objectives and develop a shared vocabulary of terms from course material. They also develop a sense of shared experience and camaraderie with coworkers who have completed the same training. This could positively affect overall employee engagement. 
Innovation
"Innovation" is more than a buzzword. It's a concern of executives around the world. Consider these statistics:
Approximately 84% of executives agree that innovation is important, but only 6% are satisfied with the innovation performance of their business (

McKinsey & Company

) 

Almost 75% of international executives feel their industry has a skills gap; 64% say this hinders their ability to innovate (

GE

)

About 56% of global executives expect their company's investment in innovation to increase from 2019 to 2020 (

KPMG

)
Investing in your employees' corporate finance training can be a strategy for increasing innovation. Why? Because new ideas fuel innovation.
As they study investment products, diversification strategies and asset allocation, employees may come up with new ideas applicable to their day-to-day work. In this way, online finance certificate programs have the potential to fuel your company's idea pipeline. By encouraging your employees to take advantage of training opportunities and share their ideas, you can foster a company culture of innovation. By implementing the best of their ideas, you also champion a culture of continuous improvement.
Cross-Training Agility
Another reason you may consider online finance certificate programs is to cross-train your employees. For example, our Asset and Portfolio Management Certificate Program could be a great opportunity to cross-train accountants, auditors, analysts, and the like. Teaching these finance professionals about asset and investment management not only helps them understand other finance careers, but also exposes them to new ways of thinking. It can even expand their knowledge of other areas of your company. 
Improved engagement and performance could also come from cross-training employees. Cross-training helps employees develop a more holistic understanding of how their job relates to the greater company's goals. This may make employees feel more engaged with their work or lead to greater collaboration across departments. As employees gain new skills and knowledge, they're prepared to take on new challenges and more responsibilities at work—which improves your company's agility and performance.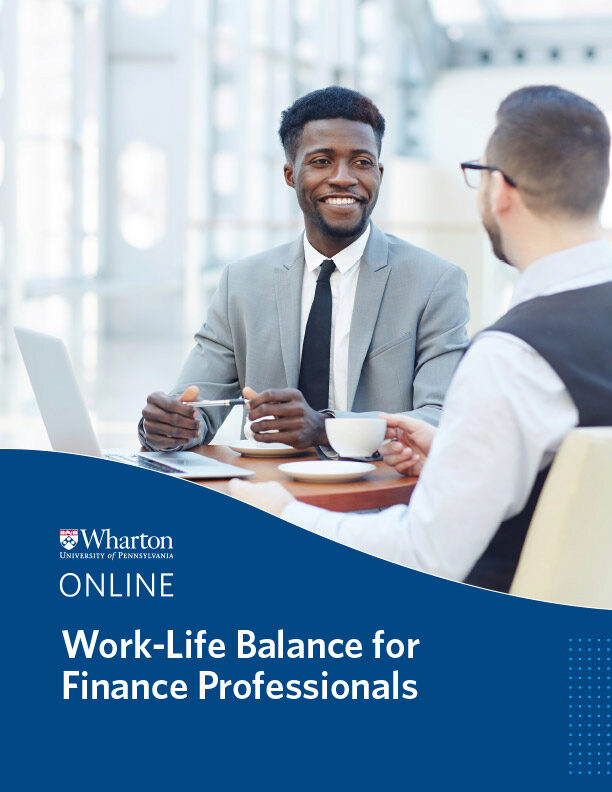 Download our eBook: Work-Life Balance for Finance Professionals
Finance careers can be fast-paced and exciting, but the long hours and heavy workloads can lead to considerable stress. Download our free eBook, "Work-Life Balance for Finance Professionals", to learn about the causes and symptoms of work-related stress in the finance field, and how to create a healthier work-life balance.
Explore Wharton Online's Asset and Portfolio Management Certificate Program Today
Invest in your employees through Wharton Online's Asset and Portfolio Management Certificate Program. This 100% online program offers employees the flexibility to learn on their schedule. Learn more about the certificate program, or request more information today.