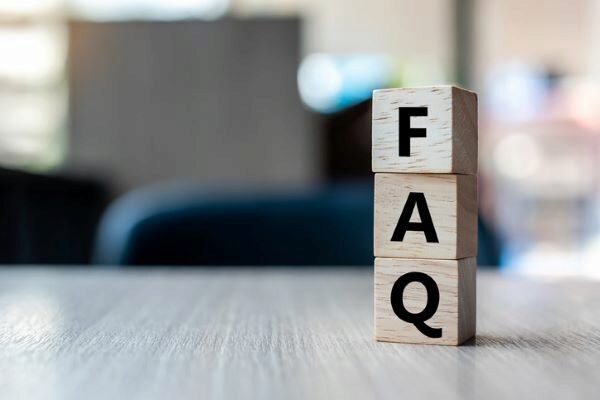 Nearly 67% of people have thought about switching careers in the past year, according to a 2020 report from iHire, a platform that brings job seekers and employers together. Career switching is an emerging trend, and a finance career may be worth considering. 
Wharton Online's Asset and Portfolio Management Certificate Program was designed for aspiring portfolio managers and career switchers to learn about investment products, risks, and strategies. This guide answers questions about the certificate program's formats, coursework, online learning environment, length, and more.
How Many Courses Are in the Program?
The Asset and Portfolio Management Certificate Program consists of three investment portfolio management courses. Each course is detailed below.
Fundamentals of Portfolio Management:

Focuses on foundational aspects of portfolio management, such as regulation, diversification, the modern portfolio theory, and different investment strategies

Investment Products:

Helps expand your understanding of investment products—such as derivatives, bonds, and mortgage-backed securities—to enhance ROI strategies

Asset Allocation:

Discusses the capital asset pricing model and other frameworks for assessing short- vs. long-term risks and returns for various investments
Each of these online investment courses consists of four modules.
What's the Difference Between the Cohort and Self-Paced Formats?
Wharton's Asset and Portfolio Management Certificate Program is offered in two formats: cohort and self-paced. 
Learners who choose the self-paced program have on-demand access to all the course materials and advance through the program at their own pace. Those who choose the cohort format have on-demand access to one week of online investment course materials at a time and advance through the program with a group of online learners. 
When comparing our cohort vs. self-paced program formats, cohort learners participate in weekly live sessions with fellow learners, led by a Wharton faculty member or course facilitator. Live sessions are not part of the self-paced program. As a self-paced learner, however, you have the flexibility to complete course material as quickly or as slowly as you'd like. 
Each program format has advantages, such as the convenience of 100% online courses, for working professionals looking to take their career in a new direction. Not sure which learning style is best for you? Take our quiz, "Which Online Learning Style is Right for You?," to find out.
What's the Coursework Like?
Before starting Wharton's investment portfolio management courses, you have to complete a profile and introduce yourself to fellow learners in the discussion forum. You can explain your professional background, new careers you're considering, and some of your personal hobbies.
Beyond those preliminary steps, here's what you can expect from each course:
Video lectures

10-question practice multiple choice quiz to prepare for the module exam

20-question graded multiple choice exam at the end of each module

Discussion forum

Short exercises in some modules

Final case study at the end of each course

Weekly live session (for cohort format)
Quizzes
Module quizzes test your knowledge of key topics. The practice quiz is designed to prepare you for the graded quiz, which requires an 80% score to pass.  
Discussion forum 
The discussion forum is a great place to interact with your fellow learners. You may use it to ask questions about course material, share a relevant resource, or get advice about a career change you're considering. Some course modules require you to share one original post and comment on at least one person's post in the discussion forum. 
Final case study 
Each of the investment portfolio management courses ends with a case study based on a financial scenario. The case study assignment consists of a spreadsheet for data analysis and 21-question quiz; to pass, you must submit the spreadsheet and answer at least 17 quiz questions correctly. 
What's the Online Classroom Like?
We use a very intuitive online learning platform for our Asset and Portfolio Management Certificate Program. The program also features recent design changes for a more sophisticated look and feel.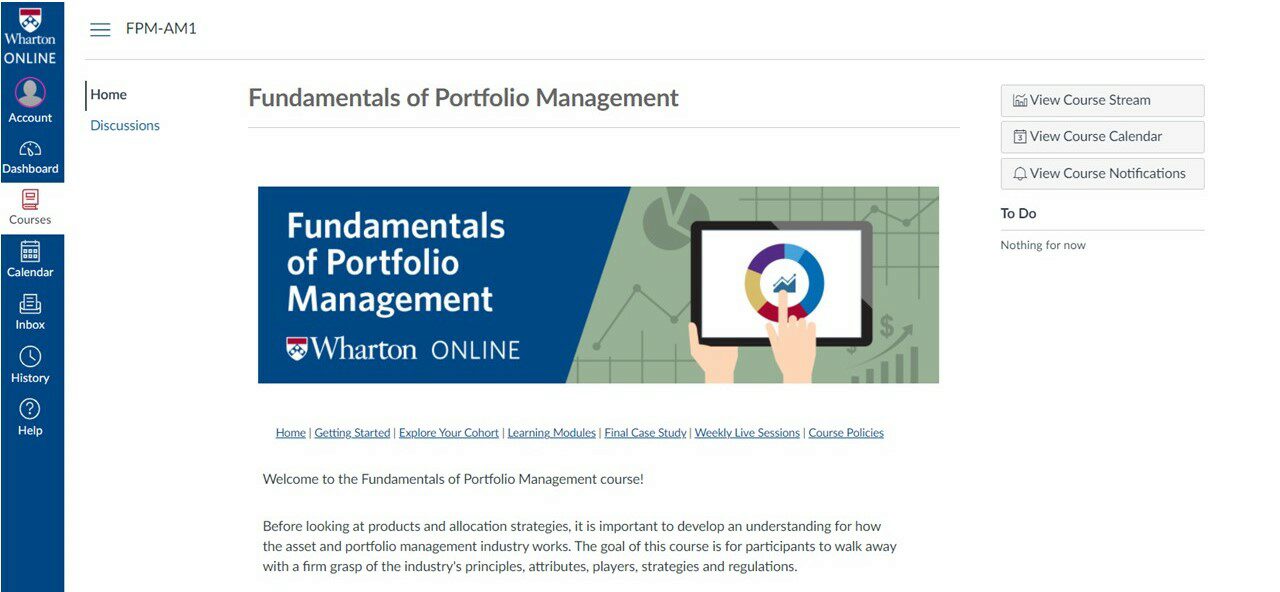 The navigation panel can be found on the left side of your screen and includes these sections:
Account

Dashboard

Courses

Calendar

Inbox

History

Help
You can access your investment portfolio management courses in the "Courses" section.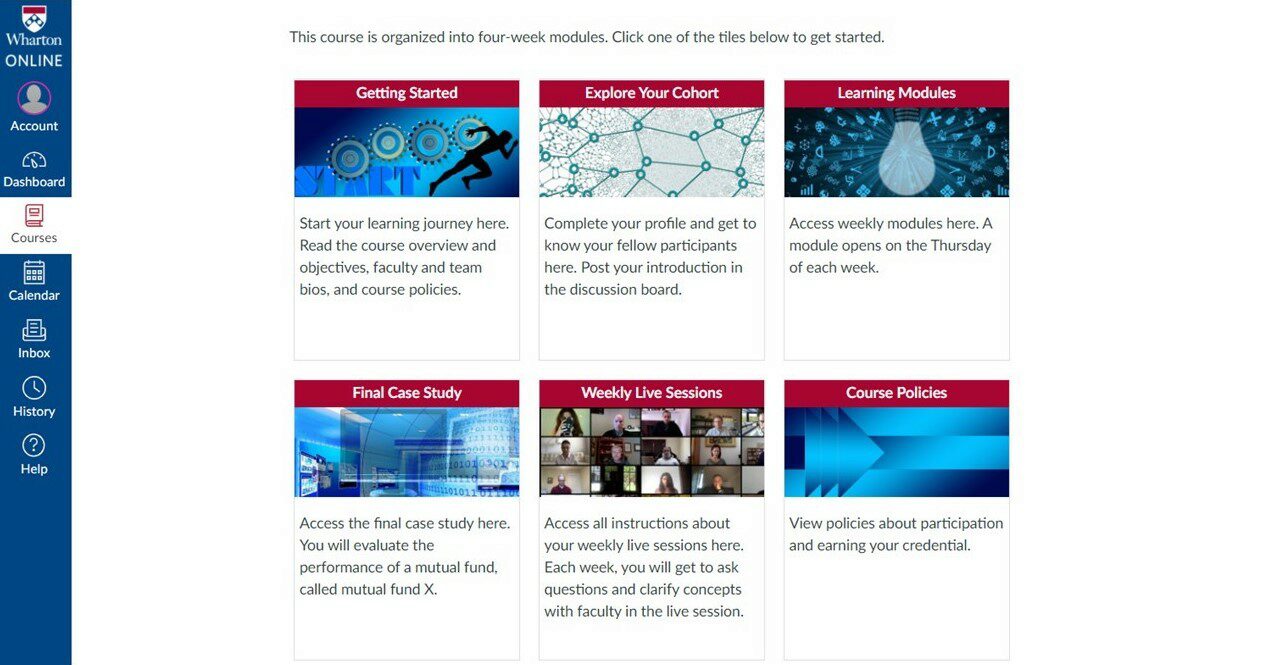 Within "Courses," the main sections are:
Getting Started

Explore Your Cohort (for cohort format); Explore Participants (for self-paced format)

Learning Modules

Final Case Study

Weekly Live Sessions (for cohort format)

Course Policies
You'll spend most of your time in the "Learning Modules" section progressing through the course material.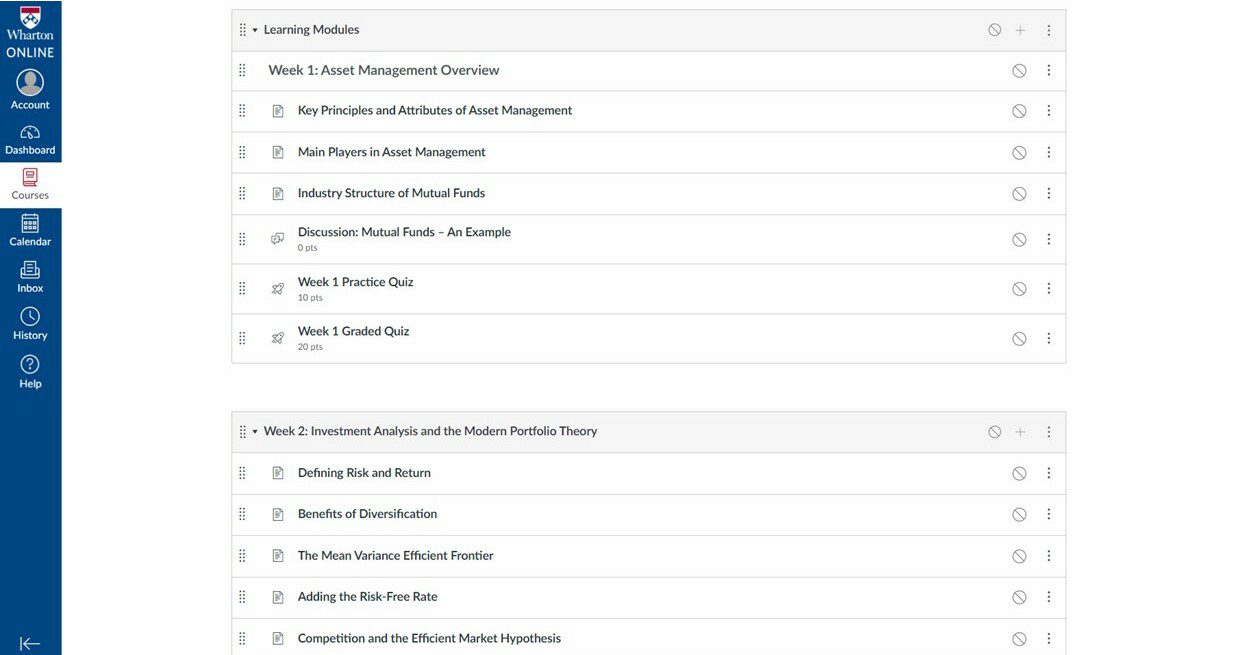 The "Learning Modules" section houses course video lectures and quizzes. 
What Happens if I Have Technical Issues?
For technical support, click on the "Help" section of the navigation panel. The Wharton Online team is committed to quickly resolving technical issues. 
How Do Cohort Live Sessions Work?
In the cohort program, each course consists of four synchronous, live sessions (one per module). These live sessions are designed to facilitate discussion and interaction among learners, faculty, and course facilitators.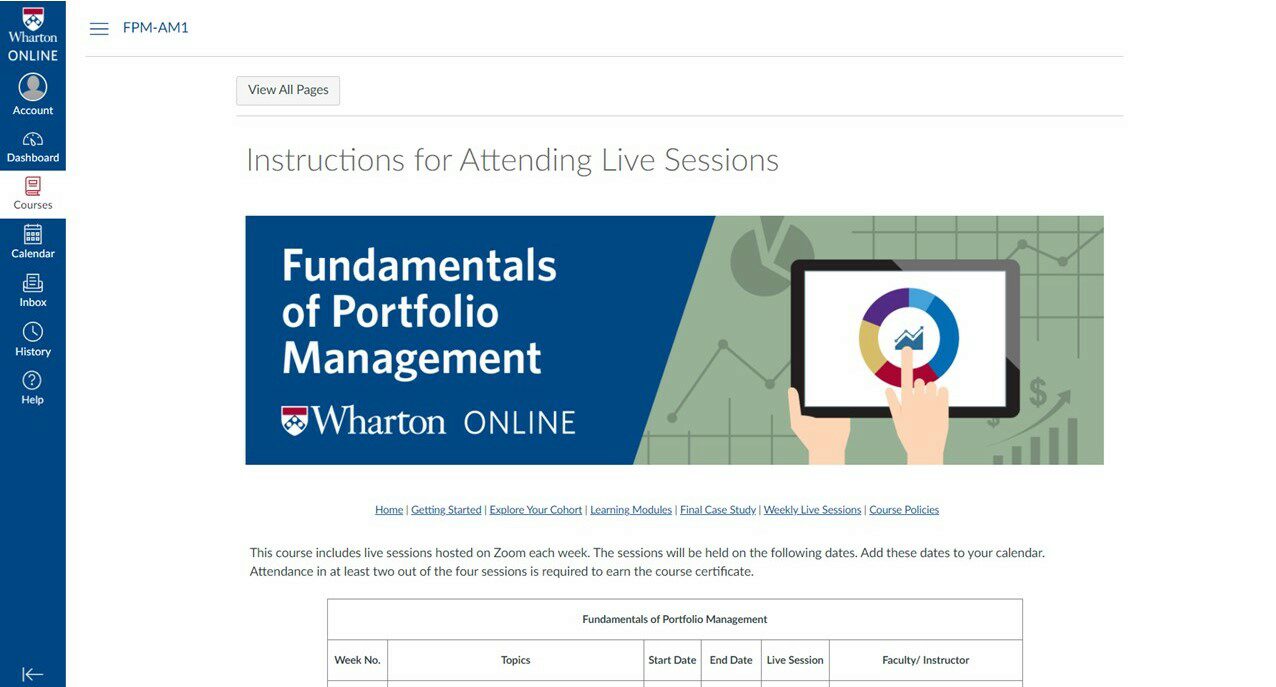 Here are some key features of the live sessions: 
Standing faculty host the live sessions for the first and last modules

Course facilitators host the live sessions for the second and third modules

The first five to 10 minutes are spent reviewing the module material

The majority of the time is spent answering questions and having open discussions about the course topics
Can I Get in Touch With My Course Facilitator?
Yes. Your course facilitators' contact information is available through the online learning portal. 
How Long Does the Program Take?
Short answer: It depends. Each online investment course takes about four weeks to complete, which means the full program may take about three months to complete. Self-paced learners can take more or less time than this, while cohort learners stick to a four-week course structure.
Self-paced 
The estimated time commitment for the self-paced program is three to five hours per week. Based on this, each course will take about four weeks to complete. However, it may take you more or less time to complete each course depending on how much time you spend on your studies each week. For online learning time management insights, check out our article, "10 Tips for Learning Online."
Cohort
Cohort learners are expected to spend three to five hours per week on their studies. The cohort program takes three months to complete; each course follows a four-week schedule. The cohort program was designed with working professionals in mind; each module starts on a Thursday and ends on a Wednesday so you can work on course material over the weekend. 
Learn More About Our Asset and Portfolio Management Certificate Program
If you're ready to take the next step toward a new career, our investment portfolio management courses can help. You can enroll in the self-paced program anytime. The cohort program has two start dates annually. Learn more about our Asset and Portfolio Management Certificate Program, or request more information today.