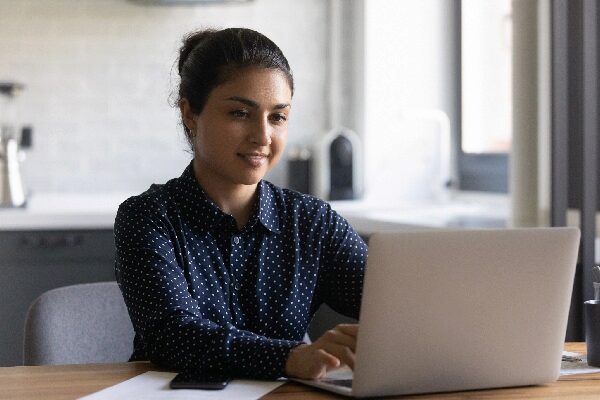 Starting a career in a new field is exciting, but getting your foot in the door often presents a challenge. If you're worried about your application being overshadowed by candidates with more experience than you, don't underestimate the role that a well-written resume can play in the hiring process. Even if you don't have the work experience an employer is looking for, your resume can effectively convey why you'd be a great fit for the job. 
According to iHire's 2020 Talent Retention Report, 66% of survey respondents have recently considered changing careers. The report also found that not knowing how to write a career change resume was a commonly cited roadblock for would-be career switchers. 
In this guide, we explain what a career change resume is and how to write one. We've also included a free template, so you can get to work on crafting a resume for your dream role.
How to Write a Resume for a Career Change
In general, most best practices for writing a resume also apply to career change resumes. However, there are a few areas you'll want to be sure to emphasize when writing a resume for a new career path. While a traditional resume focuses heavily on work experience, career change resumes focus more on transferable skills.
In terms of how your resume is structured, a combination resume format may be the way to go. This type of resume places an equal emphasis on both skills and experience. Instead of starting the resume with your work experience, combination resume templates typically begin with an objective and a summary of relevant skills. 
The steps listed below can help you adapt your existing resume into one that is tailored for career switching. 
1. Craft a resume objective  
A resume objective is a short summary of your professional experience, skills, accomplishments, and career goals. 
Resume objectives and summaries are often considered optional, especially if you are trying to save room on your resume, but this section is crucial for those looking to change careers. The hiring manager may not make an immediate connection between your experience and the role you're applying for, so your resume objective is essential for helping convey why you're interested in this industry. 
Your objective should be no longer than a couple sentences. If it takes up more than two or three lines on your resume, try to shorten it.
2. Include a skills summary 
If you're in the midst of changing careers, you'll want to feature your skills prominently on your resume. In fact, we recommend listing them above your work experience. 
In the skills summary section, list a few skills you want to highlight, and add bullet points underneath each skill that provide examples of when you've used this skill. 
Not sure what type of skills to include in this section? Scan the job description for the position you're applying for and use some of the required skills as your starting point. Some soft skills—such as leadership skills—are applicable for almost any job. Including some of the same keywords as the job description can help ensure that your resume makes it past automatic review filters.
In some situations, you might also choose to make a separate section for "Technical Skills." In this section, you can briefly list your proficiency with various industry tools or software. This can be a great way to capture additional keywords from the job description, without having to list full examples of when you've used each tool. 
3. Focus on the most relevant work experience 
For a career change resume, the work experience section is all about transferable skills. You don't necessarily need to list all of the responsibilities you had at your old job. Instead, focus on the responsibilities that are the most relevant for the new position you're applying for. For example, if you're a customer service representative hoping to land a job in digital marketing, you may choose to narrow in on your ability to find creative solutions for your customers. 
Here are a few tips for describing your work experience:
Connect your work experience back to the skills listed in your skills summary section

Focus on achievements, providing numbers and data whenever possible

Tailor your descriptions to each job you apply for, working in keywords from the job description
If you're running out of space on your resume, keep in mind that you don't need to list every job you've ever had. Stick to your most recent two or three jobs, and leave older, irrelevant jobs behind. 
Related: How to Successfully Navigate a Midlife Career Change and Avoid a Crisis
4. Highlight your education (including certificates) 
Whether or not your education is directly related to the job you're applying for, it's still important to include this section on your resume. If you have limited professional experience, you can bolster your resume with some descriptions of your academic achievements, such as your GPA or relevant coursework you've completed. 
For example, imagine you have an undergraduate degree in history and are applying for a role as a business analyst. If you took any courses in business or analytics during college, be sure to mention them. They might not have been a part of your degree, but they show that you've had an ongoing interest in understanding how businesses operate. 
If you've earned any certificates outside of a degree program, be sure to list these, too. Online programs and certificates offer a way to expand your knowledge in a specific subject area, without the time commitment of a full degree program. They can show employers that you are serious about your professional development and would like to gain more experience in a particular industry. 
Related: Top 10 Most In-Demand Online Courses from Wharton Online Right Now
5. Add in notable projects and accomplishments 
Dedicating a section of your resume to projects and accomplishments isn't always necessary, but if you're changing careers or do not have much work experience, this can be a valuable way to round out your resume. You can use this space to highlight any personal achievements that are not directly related to work or school—for example, personal projects, volunteer work, or involvement in industry-related clubs or organizations. 
If you choose to include a section for projects or accomplishments, make sure that everything you list ties back to a key skill or characteristic that is relevant for your desired career path.
Career Change Resume Example 
Now that we've covered some tips for creating a resume tailored to a career change, let's explore an example. We crafted this resume for a customer service representative who is applying for a digital marketing specialist position. 
Name and Contact Information 
Abigail Jacobs 
Philadelphia, PA
267-555-0176 | ajacobs@sample.com
linkedin.com/in/abigail-jacobs-example
Objective 
Driven and hardworking professional with a proven track record of increasing customer satisfaction levels. Looking to leverage my problem-solving skills and build upon my 3+ years of customer service experience by transitioning into the digital marketing space.
Professional Skills 
Problem Solving
Developed creative solutions for unsatisfied customers at Platinum Auto Insurance and Accelerate Call Center

Lead brainstorming sessions with team members to improve customer satisfaction metrics
Communication 
3+ years of experience in customer services roles, frequently communicating with customers both on the phone and over email 

Completed a B.A. in Communications and was an active member of the Public Speaking Club while in college 
Organization 
Used Excel to organize and track customer service metrics, and compiled these metrics into weekly reports for management 
Technical Skills 
Microsoft Word

Excel

Google Suite 

WordPress 

Google Analytics 

Google Search Console 

Zendesk
Work Experience
Senior Customer Service Advisor
Platinum Auto Insurance | Sept 2019 – Present
Resolved over 100 customer complaints per week, communicating with customers via phone and email 

Tracked KPIs for each ticket and delivered weekly customer satisfaction reports for management, consistently exceeding target satisfaction ratings by 5-10%

Collaborated with team members to identify creative solutions for customers
Customer Service Representative 
Accelerate Call Center | Jul 2018 – Sept 2019 
Responded to 50+ calls per day, answering questions from customers and redirecting to other departments as needed 

Demonstrated written communication skills by revamping customer service phone scripts, resulting in a 20% increase in customer satisfaction ratings 
Education 
Bachelor of Arts in Communication
University of Pennsylvania | Jun 2018
3.75 GPA

Completed courses in advertising and social media
Digital Marketing Certificate 
Wharton Online | Mar 2022
Completed a six-week program from The Wharton School

Learned about topics such as marketing analytics, customer relationships, social media, and e-commerce marketing 
Personal Projects
Marketing Assistant for Public Speaking Club 
2017 – 2018
As a member of the Public Speaking Club at University of Pennsylvania, assisted the club with creating a monthly newsletter

Managed social media accounts for the club, consistently posting content and engaging with followers 
Marketing Consultant 
2020 – Present 
Assisted a friend with the creation and management of photography business website

Used Google Analytics and Google Search Console to measure the performance of website content 
Career Change Resume Template
We've adapted this example into three different template formats, with the hope that it can serve as a jumping off point for your own career change resume. Click on the links below to download the template:
Google Docs (click on "File > Make a copy" to save to your own Google Docs folder)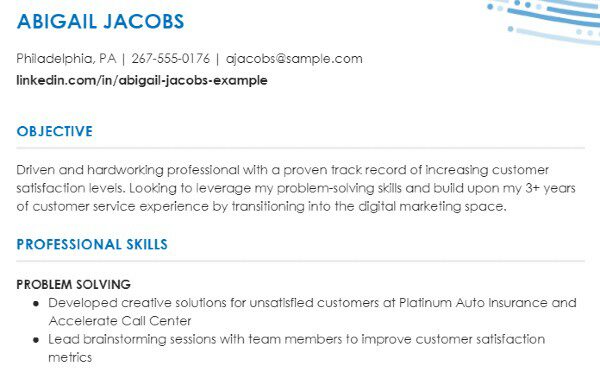 Stand Out From the Crowd With Wharton Online
If you're looking to switch careers in the near future, an online certificate program can help set you up for success. In addition to gaining valuable insights into a specific industry, you'll be able to list your certificate on your resume and LinkedIn. This can give you a competitive edge during your job search. 
Wharton Online offers certificate programs in subjects such as leadership and management, asset and portfolio management, and digital marketing. All of our courses are conducted 100% online, giving you the flexibility to complete coursework on your own schedule. Explore our online programs today, or reach out to us with any questions. 
For more tips on how to navigate a career change, download our free guide, "The Career-Switching Handbook for 30‑Somethings."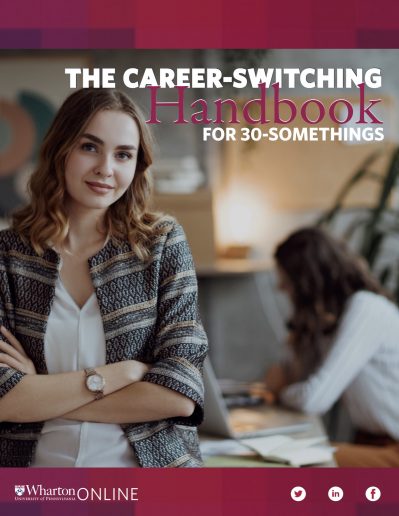 Download our eBook: The Career-Switching Handbook for 30‑Somethings
Job-hopping is a growing trend among young professionals, and for many good reasons. Download our free eBook, "The Career-Switching Handbook for 30‑Somethings," for the latest career-switching tips, strategies, and data.