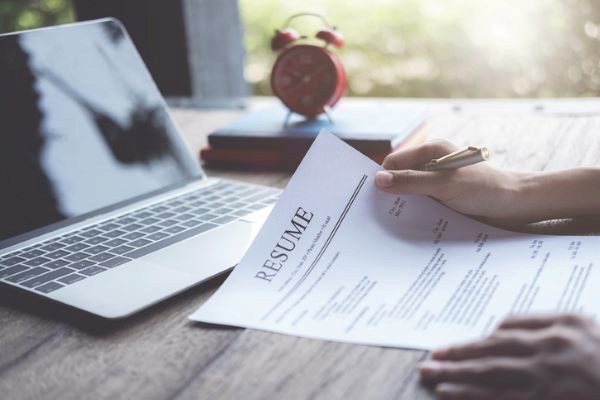 A typical corporate job posting receives about 250 resumes Glassdoor reports. So how can you stand out from a sea of applicants? If you want to move into a management or executive position, adding leadership skills to your resume is a good way to get noticed. 
This article offers a definitive list of eight leadership skills examples for your resume. 
1. Analytical Decision Making
Employers ranked analytical/quantitative skills high in the Job Outlook 2019 survey from the National Association of Colleges and Employers (NACE). Nearly 72% said they look for this characteristic among potential employees. Analytical decision makers use facts from a variety of sources to inform their choices. To appeal to employers, highlight job roles and workplace wins that required research and analysis.  
2. Communication
Communication is one of many important leadership skills examples for your resume. Effective communication is essential to present a company's mission, vision, and goals to employees. Written communication skills were the top ranked attribute in NACE's survey; 82% of employers value these skills. Verbal communication skills weren't far behind; 67% of employers ranked verbal communication skills. Convey your communication expertise in your resume by highlighting written and verbal projects you contributed to—such as corporate reports, case studies, newsletters, training materials, meetings, and public speaking events.
3. Delegation
Leaders know when to delegate work to their team members. There are many ways to successfully delegate. Demonstrate your delegation skills on your resume by describing how you managed a team or project. Provide specific examples of how you delegated responsibilities, established expectations, tracked progress, and provided feedback.
4. Teamwork
Of the leadership skills examples to include on a resume, teamwork should definitely be highlighted. Leaders must be able to tackle complex problems and engage their teams in decision making. In other words, today's leaders must be great team players. According to NACE's Job Outlook Survey 2019, almost 79% of employers value teamwork, making it a desirable leadership skill to include on your resume. Use your resume—and job interview—to stress your ability to work with others and passion for accomplishing team goals. 
5. Adaptability
In the Journal of Leadership, Accountability and Ethics' 2018 article, "Future Trends in Leadership Development Practices and the Crucial Leadership Skills," adaptability was ranked high in the list of crisis management leadership skills. Leaders don't just need to adapt well during times of crisis, however; they also must adapt well to everyday changes. Great leaders respond to changing needs and pivot the direction of a team or organization when necessary. Demonstrate your adaptability on your resume by describing when you had to shift directions in response to a change of plans or an unplanned event.
6. Creative Problem-Solving
Obstacles arise, even in well-planned projects. How do you problem solve? Do you look for ways to turn problems into opportunities, lead brainstorming sessions to find solutions, or use the "five why's" technique to uncover the root of the problem? The point is, there are many ways around a problem, and employers value creative problem-solving. This is a great leadership skill for a resume. Use your resume to demonstrate how you've creatively removed an obstacle to aid a project's success.
7. Trustworthiness
Good leaders can be trusted to meet deadlines, better their employees, and be role models for their teams. According to an Indeed.com article, "Q&A: What Makes a Good Professional Role Model?," accountability, hard work, positivity, persistence, integrity, and respect are traits of workplace role models. Rather than state that you are trustworthy, demonstrate your trustworthiness by incorporating some of these traits into your resume.
8. Tech Savviness
Technology is part of nearly every job, and leaders are expected to leverage it for growth, innovation, and efficiency. Show the full breadth of this leadership skill on your resume by listing your experience with industry-specific technologies, whether that's computer languages, coding, or project management systems. If you've used technology to streamline or improve a process, mention this as well.
Expand Your Leadership Skills With a Leadership and Management Certificate
While this isn't an exhaustive list of leadership skills examples, including these leadership skills on your resume could help you get noticed by your ideal employer. If you're looking to grow your leadership skills, explore Wharton Online's Leadership and Management Certificate Program. In this flexible program, students learn how to apply the latest management concepts from Wharton's world-class faculty. The world is expanding, and your leadership skills should do the same. Request information today.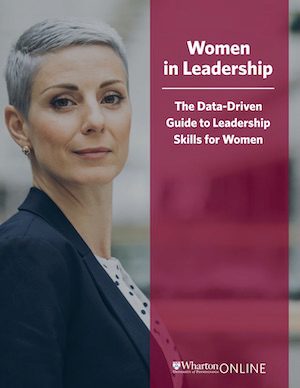 Download our eBook: Women in Leadership
Women represent more of the workforce than they used to, but they're still underrepresented in management. Download our free eBook, "Women in Leadership: The Data-Driven Guide to Leadership Skills for Women," for a detailed look at what obstacles exist for women pursuing leadership roles and how to overcome them.