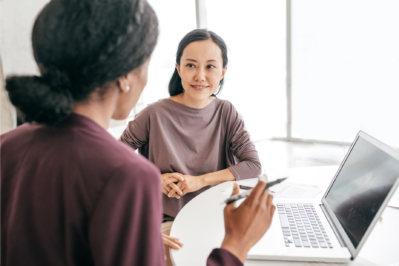 Your resume is often the first professional impression you make when you're looking for a new job. Resumes that are keyword-optimized are more likely to be found in online searches. Resumes summarize career evolution, provide details about skills and technical capabilities, and highlight why a candidate is the right fit for a particular job.
A 2019 study by TopResume found recruiters perceive candidates with professionally written resumes to be:
Worth 7% more than those without them
More polished and better able to deliver results
More worthy of presenting to clients
A good resume can move a candidate further along in the job interview pipeline and be a tool to get you to the interview stage. Here's how to create an effective resume that will help you get hired for the job you want.
What Makes a Good Resume?
A good resume is a one-to-two-page document that:
Catches attention and gets seen by the right people
Makes you stand out among job candidates
Concisely lists your experience and skills
With much of recruitment and the hiring process moving online today, a good resume needs to be designed for online job banks. That means the resume should have relevant keywords to the job you're applying for.
What to Include in Your Resume?
There are dozens of free resume templates online that you can use. Choose one that has a clean and concise design so hiring managers can quickly understand the attributes you bring.
However you design your resume, you should always include these key features.
A powerful summary statement. Write this summary statement based on industry trends for the job you're going after. Provide a macro view of your experience and include relevant skills and keywords that match your experience with the job you're applying for.
A list of core competencies. Include a bulleted list of your main skills/attributes that you offer. Examples include "team-building," "communication skills" and "financial analysis." Including these keywords makes your resume scannable and also searchable for recruiters and hirers using online job banks.
Relevant professional experience. Include the name of the company, the years worked there, your title at the company, a summary statement of your work and a bulleted list of the contributions you made and significant tasks you completed. Focus more on specific career accomplishments, rather than simply listing your day-to-day responsibilities.
Include any degrees and certificates you have earned. You can also list industry-specific training and certifications you've achieved.
Technical skills. If you have experience with industry-specific software and tools, list them. Again, these are keywords recruiters and hirers may be searching for.
Achievements. If you've won any notable awards, including professional, industry and community service awards, listing these can demonstrate value to a prospective employer.
Make sure your resume is keyword-diverse to increase visibility in online applicant tracking systems. Look at the job description for the position you're applying for. Include similar keywords based on your relevant experience in your resume.
Always be honest with what you display on your resume. You don't want to harm your chances at the job you're applying for, and others when recruiters and hirers talk, when there are inconsistencies on your resume.
Do You Put All of Your Past Jobs on a Resume?
The answer is, it depends. You want to focus on listing jobs that are relevant to the position you're applying for.
If you are concerned about job gaps, you can include a section towards the end of the resume where you list "Other Work," where you list all your positions and the years worked there, which will cover for job gaps.
According to Glassdoor, recruiters and hiring managers spend an average of 6 seconds looking at a resume. With such precious little time to make an impression, you want to make sure you lead with your most recent relevant experience.
However, know that two-page resumes make a better impression with recruiters and hiring managers compared to one-page resumes. A ResumeGo study found recruiters are 2.6 times as likely to prefer resumes that are 2 pages compared to 1-page resumes for mid-level positions and 2.9 times more likely to prefer 2-page resumes over 1-page resumes for manager positions.
Two-page resumes are not only acceptable today – they're preferred. If you are having trouble filling two pages with your most relevant work experience, you can include other jobs you've worked closer to the end of the resume to lengthen it.
How Far Back Should Your Resume Go?
Again, the answer is, it depends. You should include work experience that is relevant to the job you are applying for. If you have work experience from a decade or more ago that directly relates to the current position you are applying for, then it makes sense to include it if it fits within two pages.
The best rule of thumb is to list relevant work experience starting with your most recent experience.  Recruiters and hiring managers care about your most recent work history than what you did years ago, so always lead with the most recent, relevant experience.
Common Mistakes to Avoid on Your Resume
As you're putting together your resume, avoid these common mistakes that can get your resume dismissed even when you're the most deserving candidate for the job.
Typos. A report by The Muse lists this as one of the top, most common mistakes hiring managers see on resumes. Typos convey more than that you made a mistake. A typo can give an impression that you are careless or hurry through your work. Spell-check your resume, make sure your contact information is accurate, and ensure that the spelling of all companies you've worked for is correct, too.
Fluff and filler words. Get to the point quickly with your resume. Avoid using the same words over and over again. Eliminate passive language and clichés like "successfully." Use action-oriented statements that tell the hiring manager or recruiter the actions you performed, so it's easier for them to assess the impact of your work and understand the role you played through specific actions.
Vague contributions. Employers want to see specific ways you made an impact in your work. Quantify your contributions when possible. Consider listing numbers like revenue, cost and team size. Specific, quantifiable statements take the guesswork out for recruiters.
Cluttered design. Make sure your resume is scannable. Format it in a straightforward way, so it's both easy to read and easy for applicant tracking systems to scan.
Inappropriate length. Keep your resume between one to two pages. Only provide details for relevant job experience, though you may choose to list other work experience in its own short section towards the end of the resume. A resume that is too short or too long may turn recruiters and hiring managers off.
It can be helpful to have a friend with hiring experience or a professional resume coach look over your resume to provide feedback. You don't want to miss out on opportunities because of a typo or because you're not effectively conveying all the great experience you have.