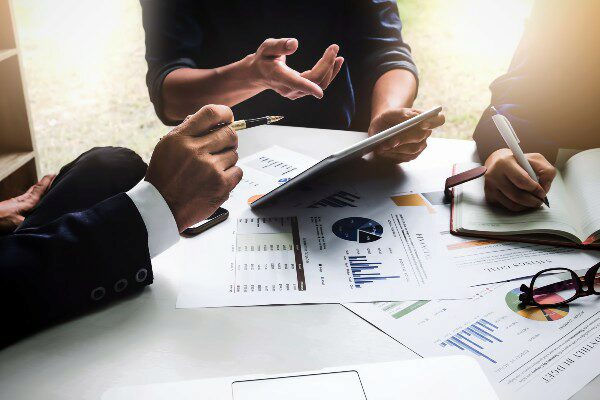 Starting a new career can be difficult, especially if you already have a degree in a different field. For many, the prospect of going back to school and completing another degree program may hold them back from pursuing the type of career they want. 
When it comes to financial careers, it is possible to enter the workforce without obtaining a finance degree. Learn more about how to become a financial advisor without formal financial education or training. 
Can You Get a Job in Finance Without a Degree? 
While many finance jobs require bachelor's or master's degrees, there are several job paths that do not require a degree in a related field. Getting a job in finance may seem intimidating if you don't have formal finance education or related work experience, but with some determination and patience, it is definitely achievable. 
If you're not happy in your current line of work or are still trying to figure out what career field is right for you, a financial advisor career may be something to look into. The finance industry is fast-paced, challenging, and is expected to keep growing over the coming decade. The Bureau of Labor Statistics (BLS) estimates that the demand for financial advisors will grow by 4% from 2019 to 2029. Job growth for more advanced finance jobs is even higher, with the BLS estimating that demand for financial managers will grow 15%, much faster than the average for all occupations.
Related: 7 Reasons Why It's Never Too Late to Start a New Career
Common Entry-Level Finance Jobs  
There are several finance jobs that are considered entry-level, meaning that they can be performed without background experience in finance. If you don't have a college degree or hold a degree in an unrelated field such as liberal arts or communications, the following entry-level finance jobs could be a great way for you to break into the industry. 
Bank tellers 
Bank tellers are responsible for processing routine transactions such as deposits and withdrawals. A high school diploma is usually all the education required to become a bank teller, though a college degree can help you stand out during the interview process. According to the BLS, bank tellers usually receive about a month of on-the-job training, but there is no background knowledge needed in finance. Since bank tellers are customer-facing, this can be a great opportunity for those with customer service experience to transition into a financial career. 
Auditing clerks 
According to O*NET OnLine, auditing clerks compute, classify, and record data to keep financial records complete and up-to-date. For this role, it's crucial to have knowledge of accounting software and a strong background in mathematics. That said, formal finance education is not necessary—the BLS states that while employers may prefer auditing clerks to have some postsecondary education, there are usually not specific degree requirements. Other common job titles related to auditing include Bookkeeper, Account Clerk, and Accounting Assistant. 
Tax examiners 
Tax examiners are responsible for helping organizations and individuals determine how much is owed in taxes. They may assist in preparing tax returns or conducting audits. The BLS states that in order to become a tax examiner for the IRS, applicants must either have a bachelor's degree or one year of specialized work experience. However, bachelor's degrees are not always required at the state and local level. 
Personal financial advisors 
According to job descriptions provided by O*NET OnLine, entry-level financial advisors advise clients on financial plans related to taxes, insurance, investment, real estate, and more. They typically meet with clients to determine their financial goals and recommend strategies for achieving these goals. Strong customer service skills and an understanding of economics are needed to succeed in this role. While you may need a bachelor's degree to become a financial advisor, the BLS notes that employers usually do not require applicants to have completed a specific course of study. 
Related: 6 Finance Careers to Consider
Steps to Becoming a Financial Advisor 
Becoming a financial advisor without a finance degree can take some perserverance, but it can be done. Some financial advisor roles are entry-level, while others may require a specified amount of work experience. 
The following can help you get your foot in the door as you begin your career as a financial advisor:
Earn a bachelor's degree.

To become a financial advisor, you'll probably need a bachelor's degree. While majoring in finance or business can help you get up to speed, don't worry if you already have a degree in a different field. Most employers do not require your degree to be finance-related. 
Connect with your network.

As you look for a new job, reach out to classmates, coworkers, family, and friends. You should also look into professional events and alumni associations.

Networking

can be invaluable when it comes to finding a job in a new field.
Determine your interest area.

Financial advisors can have a variety of specializations including taxes, investments, and estate planning. Do some research into which financial topics interest you the most and look for jobs that align with your career goals. 
Gain experience through entry-level finance jobs.

Whether it's getting a job as an accounting clerk or landing an entry-level financial advisor position, getting real-world experience is crucial—especially if you're trying to break into the industry without a finance degree.  
Grow Your Career With Our Asset and Portfolio Management Certificate Program  
If you want to advance your financial career but don't have the experience or knowledge you need for more specialized roles, online programs such as Wharton Online's Asset and Portfolio Management certificate program can help. The program is designed for early- to mid-career financial professionals and provides learners with the portfolio management skills they need to transition into roles such as asset manager or risk management specialist. 
During this program, you'll learn about the best practices of putting together a financial portfolio, including how to assess opportunities, diversify portfolios, and manage risk. This 100% online program allows you to work at your own pace and access on-demand lessons from Wharton professors. Explore the certificate program, or request more information today.