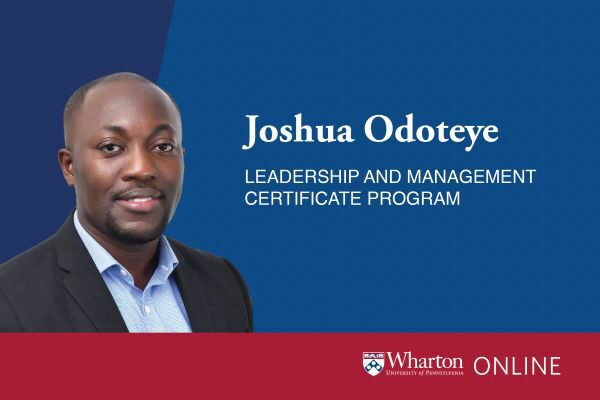 In March of 2020, Joshua Odoteye left France to visit friends and family in Ghana. When COVID-19 lockdown orders impacted international travel, his week-long vacation turned into a six-month stay. During this time, Joshua worked remotely for his Paris-based employer and decided it was finally time to sharpen his leadership and management skills. 
He found the training he was looking for in Wharton Online's Leadership and Management Certificate Program. Why did Joshua choose Wharton? When people ask, he has three things to say:
"One: It's a top school. Two: It's affordable. Three: It offers flexibility in terms of the learning pace," Joshua says.
Joshua's Journey to Wharton Online
Joshua has more than 14 years of experience as a business and telecommunications consultant in Europe and Africa. Much of his work focuses on helping organizations expand into new markets and regions, particularly in Africa. As a "language enthusiast" who speaks five languages (English, French, and three local languages of Ghana), Joshua is passionate about growth, development, and effective leadership.
"In all the work I've done, I've played some kind of team role leading people," he says.
Flexibility is key
Joshua explains how he's always wanted to come to the United States to study, but it hasn't been possible for him to leave his busy life and work in France. Having been familiar with The Wharton School, he began his search for leadership training at Wharton Online because of our online programs. 
"It's a school I always wanted to go to, but I never had time to stop work and take two years to complete an MBA program," he says. "I thought this might be an opportunity to see what programs were available, and that's when I saw the Leadership and Management Certificate Program."
For Joshua, the flexibility of this online, self-paced program was key. It took him about four months to complete the certificate program.
"I found it to be quite flexible since you could do the program at your own pace," he says. "That was beneficial because I could take a break for a week or two, when I was involved in a lot of work, and then come back to the program again."
Related: 8 Career Benefits of a Leadership and Management Certificate
Practical Lessons Lead to a Meeting With the Board Chair
In addition to leadership and management insights, Joshua says the certificate program taught him a lot about business strategy. While studying, he applied some of the lessons he was learning to help his company's expansion goals. This eventually landed him an appointment with the company's CEO and board chair, during which they reviewed the company's growth strategy.
"I asked if we could look at what the greater strategy was," Joshua explains. "What do we hope to achieve? What are the drivers? Why do we want to expand?"
During their discussion, Joshua not only highlighted the importance of clearly communicating the growth strategy to all employees but also aligning individual roles to that strategy.
"That's one of the things I learned from the program," he says.
"I also felt that the professors were great," Joshua adds. "It was such a joy to listen to them share their knowledge. I could tell they mastered their domain. That added to my desire to learn and know more. It was also refreshing to hear their views on leadership, which I thought were quite profound."
Related: FAQ Guide: How Does Wharton Online's Leadership & Management Certificate Program Work?
Relationships Are Built and Sustained
Joshua not only applied practical leadership and management skills he was learning, but he also went out of his way to reach out to some of his fellow learners. His efforts resulted in a WhatsApp group of nearly 30 individuals who were advancing through the program around the same time. 
"I thought we could take advantage of the fact that we were in a virtual program at a top school," Joshua says. "We couldn't see each other on campus, but we could still form some sort of virtual network to get to know one another." 
As they progressed through the program, the group shared their ideas about the course material. In a LinkedIn post about his experience, Joshua notes how valuable it was to learn from this group. 
Recently, Joshua organized a Zoom meeting with the group.
"We got many people connecting," he says. "They brought ideas as to how they thought we could take the group to the next level, such as by sharing business ideas, working on concrete projects, or discussing fields that each might be involved in."
Joshua plans to continue the discussion and keep in touch by hosting quarterly Zoom meetings for the group, which is made up of leadership and management professionals across multiple industries.
Related: How to Ask Your Boss to Pay for Professional Development
A Commitment to Ongoing Growth and Development
For those who know Joshua, his passion for leadership and commitment to growth is apparent.
"I have always believed that it's good to learn from people who have acquired some knowledge or expertise in their field," Joshua says. "For that reason, I enjoy reaching out to others who are in a leadership or management role to learn from their experience, failures, and successes. I believe if you want to be a leader or if you want to manage, you can learn a great deal from such people."
"Taking Wharton Online's Leadership and Management Certificate Program was a great way for me to grow my network and develop as a leader," he adds.
Enroll in the Leadership and Management Certificate Program Today
Are you ready to expand your leadership skills and learn from others who are in management roles? Invest in your career through Wharton Online's Leadership and Management Certificate Program. This 100% online, self-paced program allows you to learn at your own pace—from anywhere in the world. Learn more about the certificate program, or enroll today.