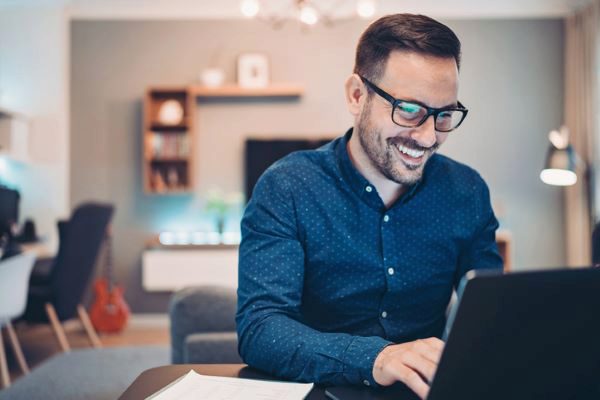 According to McKinsey & Company, a management consulting firm, merely 10% of CEOs feel that their leadership development opportunities have a clear effect on their businesses. Yet, 63% of millennials feel that their "leadership skills are not being fully developed," according to the 2016 Deloitte Millennial Survey.
The key to bridging this gap is choosing a leadership development program that both engages employees and benefits the organization. 
Wharton Online's Leadership and Management Certificate Program weaves theory with real-life examples so learners gain actionable knowledge they can apply to their organizations. This FAQ guide explains how the Leadership and Management online classroom works and benefits the professional development of teams.
Certificate Program Overview
The Leadership and Management Certificate Program is 100% online, so you and your team can study whenever works best with your schedules. You can enroll in the program at any time to start one of its four courses:
Leadership in the 21st Century

Managing and Motivating Talent

Managing the Global Firm

Strategic Management: Competitive and Corporate Strategy
Each course is broken down into four modules. 
How Do Online Classes Work at Wharton Online?
Wharton Online uses an intuitive online learning platform. Through the platform, you're able to review course module material, watch recorded video lectures, interact with fellow learners in discussion forums, check course announcements, and configure your notification settings.
"There's a pretty easy and straightforward navigation," says Mike Marolla, Course Manager at Wharton Online. "Even to someone who's not as familiar with online learning, it's not difficult to get where you need to go."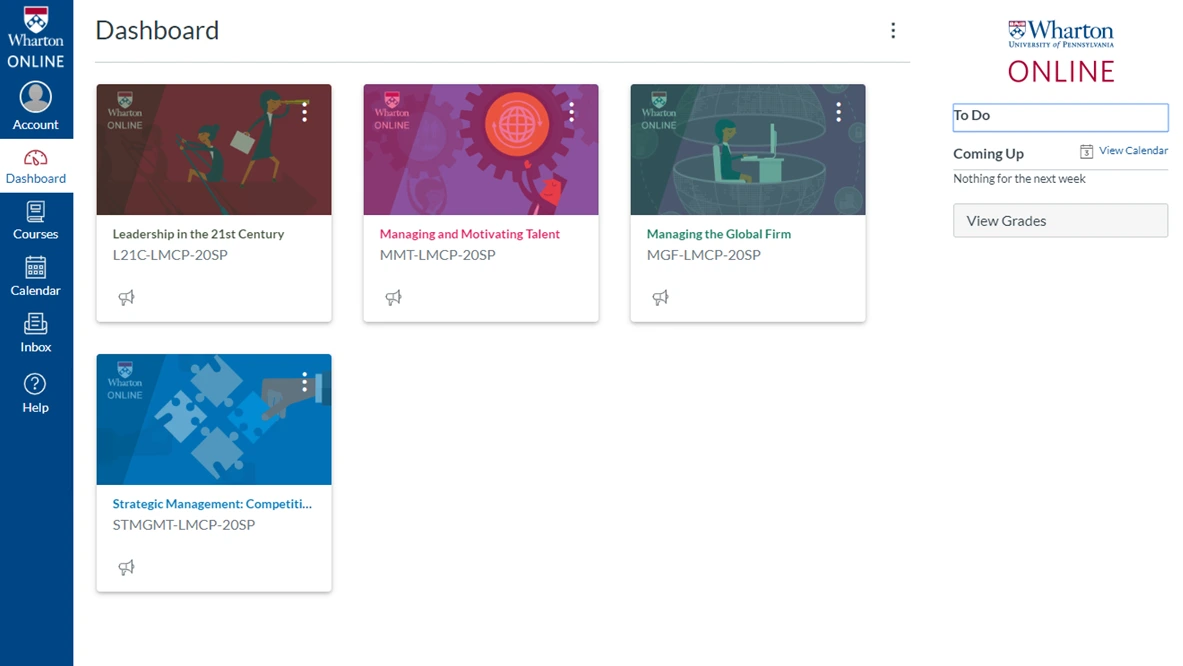 When you log in, you're brought to the "Dashboard" homepage. The platform's navigation can always be found on the left side of your screen and includes the following sections:
Account

Dashboard

Courses

Calendar

Inbox

Help
You can easily navigate to your Leadership and Management courses from the "Dashboard" homepage or "Courses" section. 
What are some of the key course features?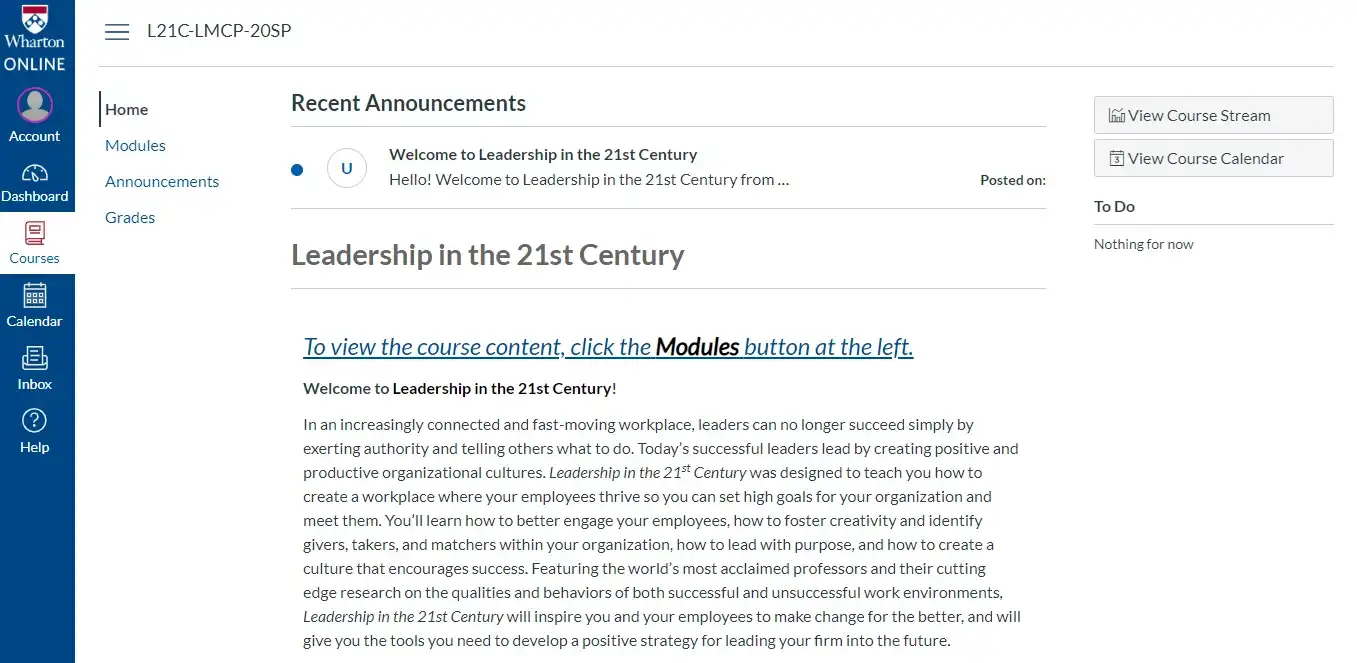 When you click on a course, you're taken to its homepage — which includes a brief introduction to the course. While this content varies based on the course, the navigation stays the same and includes these sections:
Home

Modules

Announcements

Grades
You can find timely course information in the "Announcements" section and view exam results in the "Grades" section. However, as your team dives into their leadership development, they'll spend most of their time in the "Modules" section working through the recorded video lectures.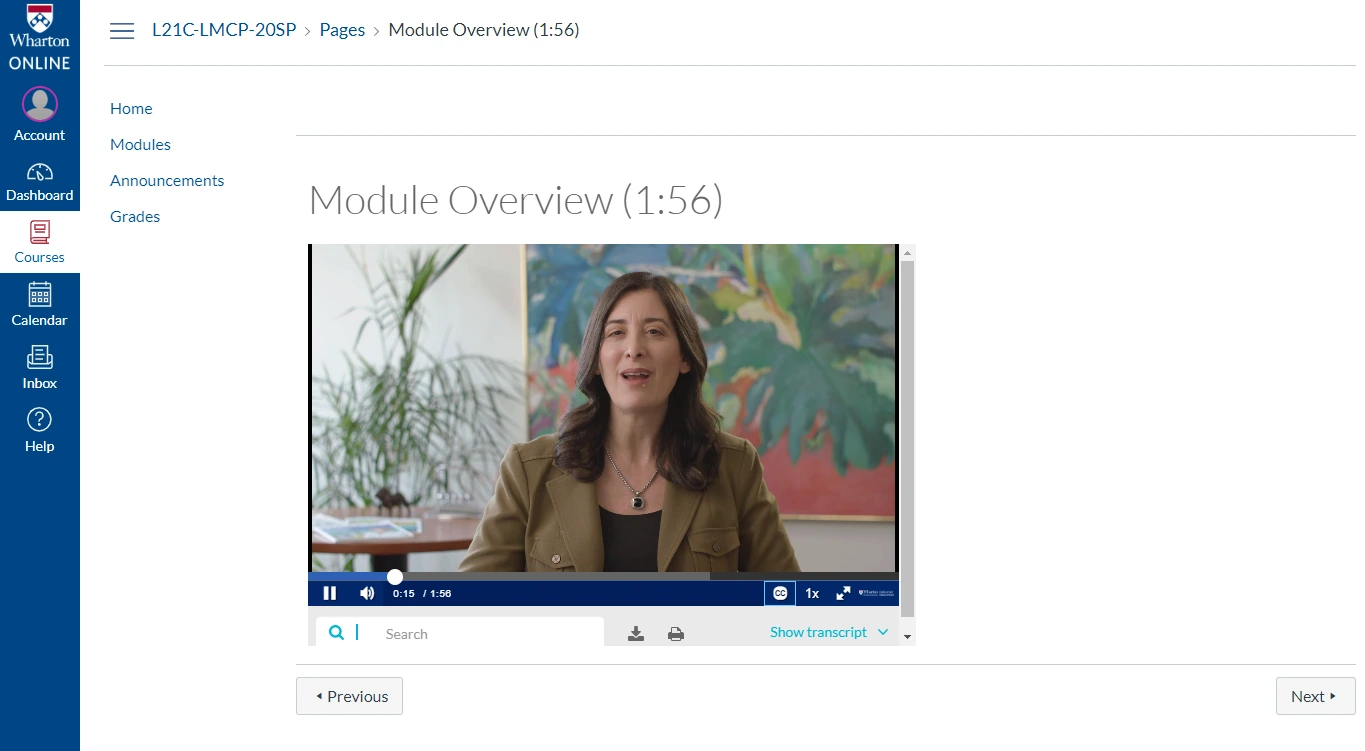 This section also provides a high-level overview of each module so you can see what the lecture videos are about and how long they last. This will help your team plan and incorporate study time into their weeks. When you're ready to start, you simply click on a lecture title.
What Is the Coursework Like?
Each of the Leadership and Management courses consists of four learning modules and has a similar online format. Each module includes the following:
Text introduction 

Series of recorded video lectures featuring Wharton faculty and presentation slides

Downloadable version of the presentation slides 

10-question multiple choice exam 

Optional discussion forum 

Additional links for further learning
Once you've completed the video lectures, the module slides are available for download. You can use the slides to study for the multiple choice exam that comes at the end of each module. A passing grade of 70% is required, but you have three opportunities to earn this score. Additionally, there isn't a time limit — so you can take your time to complete the exam.
How do learners use the discussion forum?
The discussion forum is an excellent way to interact with other learners. Learners have used the discussion forum to: 
Ask clarifying questions about course material

Pose open-ended or hypothetical questions to the group

Share how the course material applies to their work

Comment on other people's posts

Share their LinkedIn profile
Using the discussion forum is not only a great way to facilitate course conversation, but also to build connections. Having the inspiration and accountability of a team can motivate individuals to comment and post to the discussion forum. 
Optional peer review assignments
In two of the Leadership and Management courses, there are optional peer review assignments. Through these written assignments, you'll relate what you learned in the course to your personal experience from a current or past role. It's a great chance to apply course principles to real-life leadership and management situations.
Marolla says these assignments challenge individuals to think more critically and bring course content to life. He adds that they're a great way to receive feedback from and start discussions with peers, who review reflections based on a provided grading rubric.
How Long Will the Program Take?
The Leadership and Management program is expected to take four to six weeks if you invest two to four hours of time each week. However, it's self-paced — so you can watch video lectures and complete required exams on your own time. 
Marolla, encourages learners to take their time instead of rushing through the material. He also says to figure out what works best for your schedule. "The free time you have to complete coursework this week might be different than the time you have next week, which is why the course allows for flexibility," he says.
He suggests taking note of the lecture video lengths and blocking off time to complete course work each week. For more tips about making the best use of your time while taking an online course, check out our article "10 Tips for Online Learning."
Is Technical Support Available?
Yes. The Wharton Online team is committed to quickly addressing and resolving technical issues that may arise as you complete online courses. Through the "Help" section of the navigation panel, you can easily reach out to staff with questions. 
Explore our Leadership and Management Certificate Program
Do you want to scale leadership development in your organization? If so, our Leadership and Management Certificate Program is a great way to provide your team with a flexible professional development opportunity. To learn more about group enrollment, request more information today.