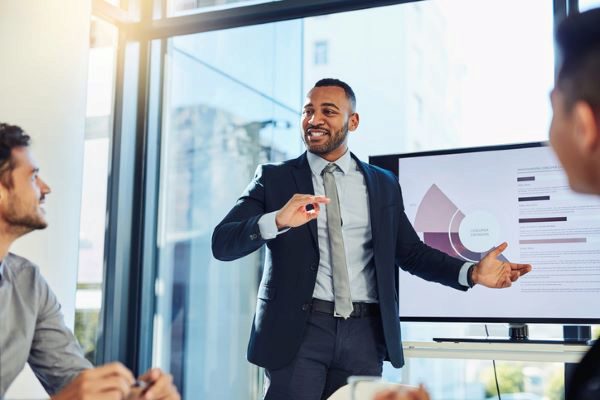 If you're a mid- to senior-level manager looking for practical skills and the latest concepts to apply to your position, consider earning a certification in leadership and management. These certifications are highlighted by real-world case studies, in-depth lessons, and online learning flexibility. Quality leadership certificate programs also have highly qualified professors and incorporate best practices that managers can apply to their industries. 
Why would you devote your (already limited) time to pursue a certification? Keep reading for eight career benefits of a leadership and management certificate. 
1. Enhance Your Skills
Do you want to improve your ability to negotiate, communicate, critically think, manage time, or collaborate with your team? Certificate programs strengthen your skills as a leader and decision-maker within your company. According to the U.S. Bureau of Labor Statistics (BLS), leadership and management skills are important qualities of top executives. 
Types of top executives include chief executive officers (CEOs), executive directors, managing directors, chief financial officers (CFOs), general and operations managers, city managers, school superintendents, and more. However, these aren't the only professionals that need to know how to lead. The BLS lists 24 management occupations, and 17 (including top executives) note leadership skills as an important quality.
2. Gain Practical Knowledge
You'll gain practical knowledge by analyzing case studies and real-life examples. Online leadership certificate programs incorporate the latest management concepts, such as employee engagement, company culture, incentives and rewards, purpose-driven leadership, and how to lead multi-generational teams. Studying such concepts will improve your ability to lead and direct your business' operations and people.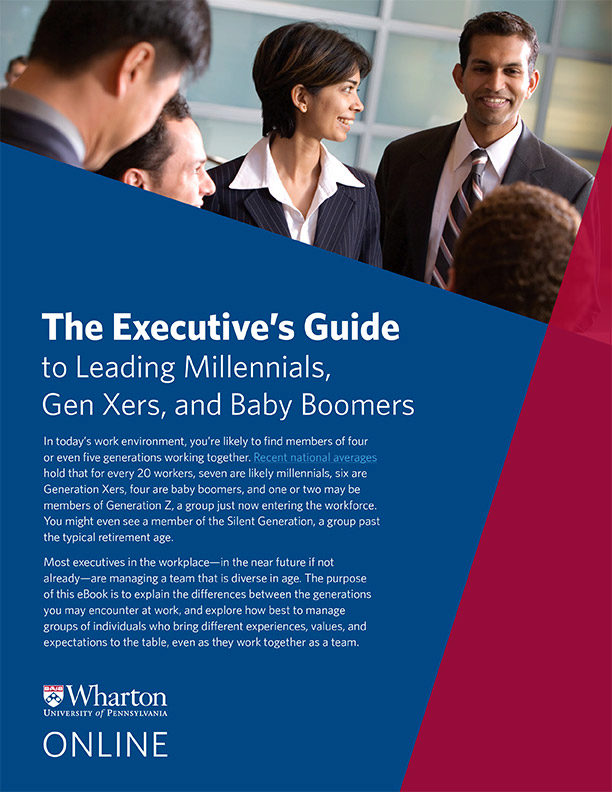 Download our eBook: The Executive's Guide to Leading Multi-Generational Teams
Many executives manage teams that span five generations: The Silent Generation, Baby Boomers, Generation X, Millennials, and Generation Z. Download our free eBook, "The Executive's Guide to Leading Multi-Generational Teams," for practical advice on how to communicate with, motivate, and manage each generation.
3. Learn at Your Own Pace
The flexibility of an online leadership certificate is a huge career benefit. It enables you to spend time on your professional development when it suits your busy schedule. You can learn at your own pace and access on-demand materials anywhere, anytime. Developing good online learning habits will help you manage your time and stay focused.
4. Expand Your Network
When you earn a certificate in management and leadership, you have the chance to connect with like-minded individuals from around the world. You can consult your community of online learners to share career interests, pose course questions, seek advice regarding a work challenge, learn about a new industry, or connect about another topic. Networking with other leaders and managers is a great way to share experiences and gain new perspectives. 
5. Earn More
A certification in leadership and management can increase your earning potential. As you apply your certificate knowledge to improve the systems, effectiveness, and morale of your organization, you may be qualified for a raise or more senior (and higher-paying) position. Employment of management occupations as a whole is expected to increase 7% from 2018 to 2028, which is faster than the average across all occupations, according to the BLS. Expanding your leadership and management skills may qualify you for these positions.
Top executives are some of the highest-paid individuals in the U.S., the BLS reports. It indicates that the median salary of chief executives was $184,460 in 2019. The highest 10% earned more than $208,000. 
6. Share With Your Team
Through your learning, you may uncover a cost-saving strategy or come up with an idea to improve your company's culture. Sharing your leadership certificate knowledge with your team is an influential career benefit. It's also a strong selling point if you're trying to convince your boss to pay for your professional development. If you're part of your organization's management team, you can share leadership insights directly with your team.
7. Develop Your Leadership Style
Investing time to study leadership and management will help you develop your leadership style. As you complete coursework, certain approaches may resonate with you more than others. The advantage of studying while working is that you can apply course knowledge to see what leadership styles work best for you and your team. As you do this, you'll also become more confident in your management abilities.
8. Boost Your Competitive Edge
Completing a certification in leadership and management demonstrates your business expertise. It also builds your resume and can make you more qualified for senior positions—especially compared to individuals who haven't invested in their professional development. Earning a certification shows drive and passion for improvement. After all, the best leaders never stop learning.
Explore our Leadership & Management Certificate Program
If you're ready to advance your career, explore Wharton Online's Leadership and Management Certificate Program. The four-course certificate program is 100% online and self-paced so you can study at your own pace. Start learning from world-class faculty and with other high-potential leaders. Request more information today.