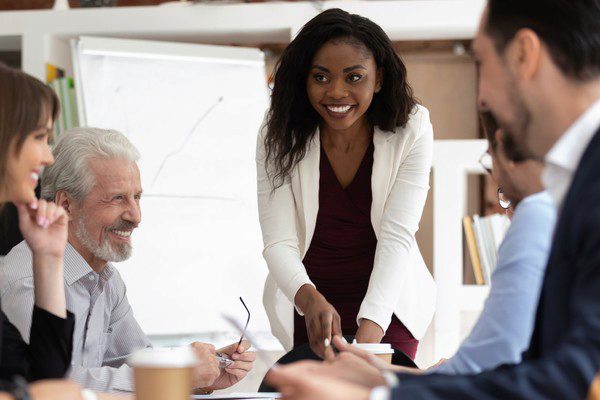 You're considering investing in your employees by reimbursing them for career training or scaling a leadership development program across your company. But, is it worth the investment? This article explains the tangible and intangible benefits of leadership development training. Learn the latest trends in employee retention and how a leadership program can help you increase engagement and foster innovation among employees.
Improved Retention
Employee turnover is a concern for many organizations. Consider these statistics from the 2019 Talent Retention Report from iHire, a platform that connects employers and job seekers:
51.7% of employees voluntarily left a job in the last five years.

When asked how long they expect to stay at their current place of employment, 31.2% of respondents said less than a year and 23.6% said only one to two years.

35% of respondents admitted to looking for a new job while they were at work.
Additionally, the Society for Human Resource Management (SHRM) reports that retention/turnover was the main management challenge cited by HR professionals in 2017. 
Why do employees quit?
Employees are more likely to leave if they aren't given opportunities to improve their skills, the SHRM also reports. This aligns with findings in the 2019 Retention Report from Work Institute, a company that provides workplace research to help organizations attract and retain talent.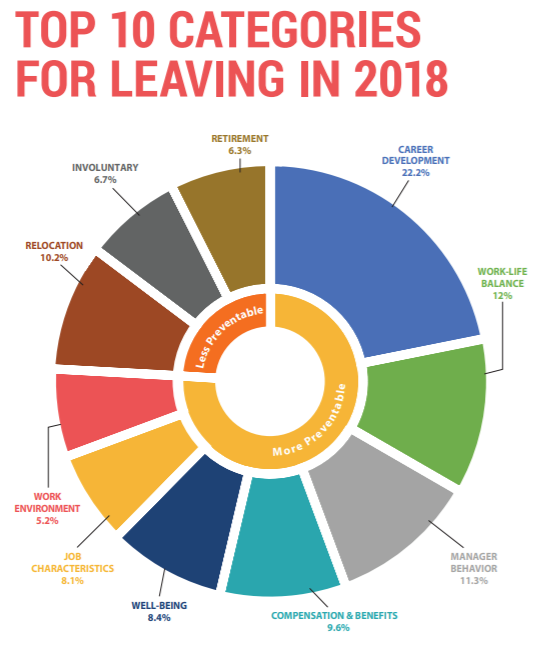 According to the Work Institute's report, career development was the leading reason people quit in 2018 (and for the ninth year in a row). Though career development was a top reason people quit, it's considered a "more preventable" issue. By providing more employee training and development opportunities, organizations can prevent turnover. This is one of the key benefits of leadership development training.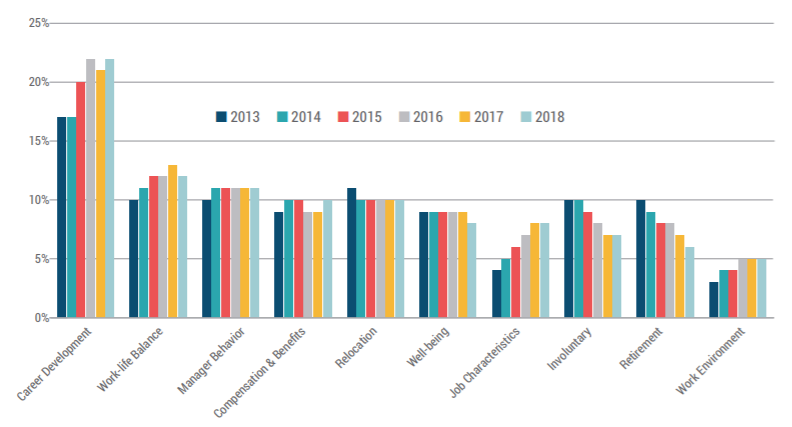 Cost Savings
Losing employees costs you money. In Work Institute's 2017 Retention Report, it estimates that turnover costs organizations 33% of an employee's annual salary: "When applied to the median U.S. worker's salary of $45,000, we arrive at an average cost of turnover per employee of $15,000." 
The report also notes direct and indirect costs associated with turnover. Some of the direct costs of turnover include:
Separation costs such as paying unused vacation time

Replacement costs linked to searching for and interviewing job candidates

Training costs associated with onboarding a new employee
The indirect costs of turnover revolve around decreased productivity—losing employees may interrupt work performance, result in skills or knowledge gaps on your team, or potentially harm your company's reputation. Providing reimbursement for career and leadership development programs could help you retain employees, resulting in direct and indirect cost savings. Of course, following hiring best practices also helps you save time and money in the long run.
Enriched Culture 
Roughly 40% of iHire survey respondents' answers about why they might leave their current position had to do with company culture. Lack of growth and advancement opportunities was the second-ranked reason employees would leave. However, it was also ranked fourth as a motivation for staying with a company. To support professional growth, iHire suggests starting mentorship programs or offering tuition reimbursement.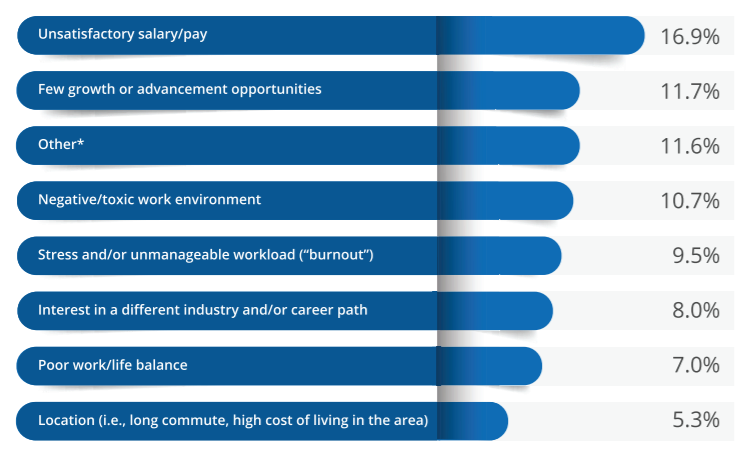 Employee and leadership development programs contribute to an organization's culture. In its "Using Recognition and Other Workplace Efforts to Engage Employees" report, the SHRM suggests implementing workplace programs to affect a better workplace culture. Supporting the long-term development of employees through leadership training says a lot about your culture. Employees want to be invested in. Providing formal growth opportunities shows that you value your people.
Increased Engagement
Only 34% of U.S. workers were engaged in 2018, according to management consultant company Gallup. Improved engagement can lead to improved performance. For example, Gallup notes that "organizations that are the best in engaging their employees achieve earnings-per-share growth that is more than four times that of their competitors."
Leadership development programs that teach practical material in a flexible online learning environment could improve employees engagement and job satisfaction. Only 17.9% of employees were "very satisfied" with their jobs, according to iHire; nearly 60% were "somewhat satisfied" or "neither satisfied nor dissatisfied." In addition to employee training and development programs, other ideas to increase employee engagement include requesting feedback, hosting social events, setting clear goals, and mentoring staff. Managers should also promote a long-term vision that conveys why an employee's work matters.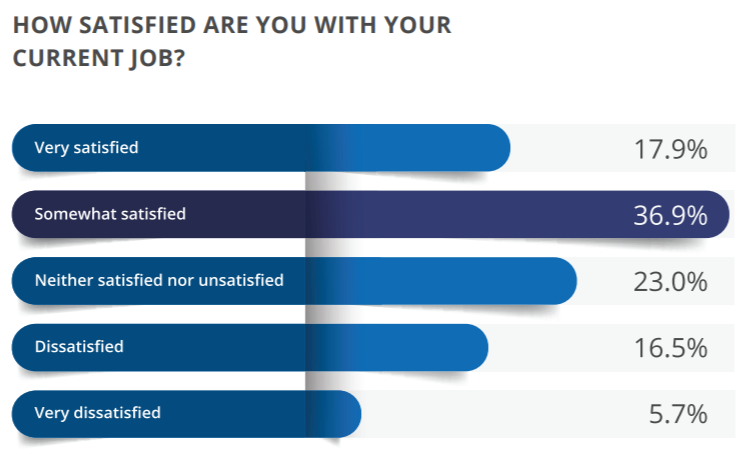 Innovation and Improvement
To encourage innovation, 43% of respondents to an Ernst & Young survey reported that their organizations support external trainings or workshops. A commitment to continued learning can spark innovation across your organization. For example, extending leadership training programs to entire teams or departments may facilitate discussions about new ideas for the company. It also helps employees think more strategically about opportunities for improvement, adapt to future challenges, and expand their leadership and management skills. Quality leadership training fosters a culture of continuous growth and improvement—which brings out the best in your people. 
Invest in Your People Today
If you're ready to invest in your people and culture, learn more about our corporate training program offerings and Leadership and Management Certificate Program. These programs enable you to scale leadership development across your teams through a 100% online learning environment.