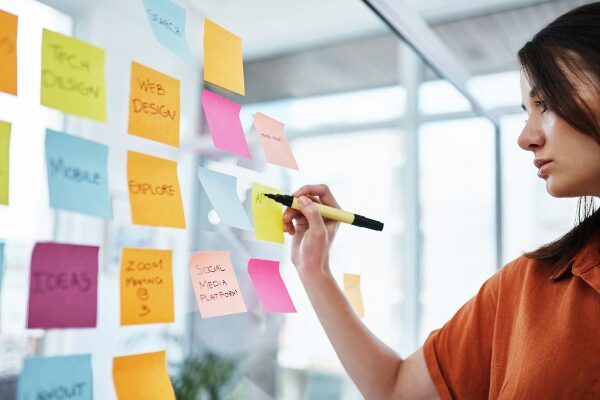 More than ever before, digital marketing has the ability to make or break a business. Companies rely on marketing professionals to help them navigate online spaces—whether it's ensuring that their website is optimized for search engines, or writing blurbs for social media posts. 
Understanding the basics of digital marketing can help you get a job in this ever-growing field. Whether you're interested in switching careers or just want to give yourself a competitive edge at your current organization, digital marketing training may be what you need to set yourself up for success. 
No matter what your educational background is, a career in digital marketing is within reach. To help you get started, we've created this guide to digital marketing for beginners.  
What Is Digital Marketing and Why Is It Important? 
Digital marketing encompasses any and all strategies for marketing a company's products and services online. 
Whereas traditional marketing involves tactics like broadcast advertising or physical marketing materials (brochures, fliers, etc.), digital marketing refers to advertising across digital mediums. This may include social media marketing, search engine optimization (SEO), pay-per-click advertising, content marketing, email marketing, and much more. 
Compared to traditional marketing, digital marketing allows companies to access a more detailed and nuanced view of how their campaigns are performing. For example, you can easily track how many users click through on your paid Facebook ad, but it's harder to measure how many people are stopping to read your print newspaper ad. 
Related: Digital Versus Traditional Marketing: What Today's C-Suite Needs to Know
When you consider how prevalent the internet has become in our day-to-day lives, it's easy to see why digital marketing is crucial for businesses. According to Pew Research Center, about 30% of U.S. adults say they are "almost constantly" online. Roughly 85% of respondents said they go online at least once a day. A decade or two ago, businesses may not have needed an online presence to find new customers, but digital marketing is becoming increasingly important for brands across all industries. 
Digital Marketing Terms to Know
The digital marketing field is extraordinarily broad—and it's always evolving. Search engine algorithm updates or the invention of new technologies can influence marketing best practices. 
If you're new to digital marketing, figuring out where to start can be a bit overwhelming. Below, we've included some key terms and concepts that digital marketing beginners should become familiar with. 
Content marketing 
Content marketing refers to the process of creating and sharing content that is relevant and helpful to your target audience. This content may take the form of blog posts, infographics, case studies, whitepapers, or even podcasts. By creating informative content, companies aim to build trust and improve brand awareness. According to HubSpot, 70% of marketers are investing in some form of content marketing. 
Conversion rate
In digital marketing, the term "conversion" refers to customers taking a specific action. For retail brands, this may be the moment that a customer buys a product. For other companies, conversions may be classified as filling out a contact form or clicking through a link in an email. Conversion rate is a way of measuring what percentage of customers (or potential customers) completed your target action. 
Customer segmentation 
No matter what industry you work in, your audience will have a variety of interests, needs, and budgets. By categorizing customers into different segments, you can create marketing campaigns that better speak to your customers as individuals. For example, effective customer segmentation allows you to craft a marketing email that is tailored to customers who live in a certain geographic region.
E-commerce
E-commerce marketing encompasses strategies for directing customers to an online store. This might include paid advertisements, email marketing, or social media posts. E-commerce marketing is essential for retail brands, as more and more consumers are beginning to prefer shopping online vs. in-store. Shopify's Future of Commerce report shows that 54% of younger online shoppers discover brands via social media. 
Engagement rate
Measuring how engaged consumers are with your brand can help inform future marketing strategies. For social media marketing, engagement rate may refer to how many customers commented on or interacted with a post. For content marketing, engagement may be measured in terms of how long the user spent on the web page. 
Lead generation
In marketing, "leads" refers to potential customers who have a high chance of converting. Every company has their own definition for what turns a customer into a lead. Lead generation is the process of attracting new leads by grabbing the attention of your audience with a new piece of content, an email blast, etc.
Paid media
Paid media advertising can take a variety of forms, from sponsored ads on social media to a pay-per-click advertisement on a search engine results page. With paid media, your business can drive awareness and capture new leads. Paid media ads can also be a great way to promote something for a limited time—for example, if an e-commerce brand is having a sale that only lasts for a week, they may choose to run ads within a specific time frame. 
Marketing analytics
One major advantage of digital marketing compared to traditional marketing is the amount of data that is available. Marketing analytics allows brands to gather insights and measure key performance indicators (KPIs). Depending on the brand and type of marketing campaign being analyzed, KPIs may include website traffic, click through rate, sales conversions, etc. There are a variety of tools that companies can use to view detailed analytics data for their marketing efforts. 
Search engine optimization (SEO)
SEO is the process of optimizing your website to ensure that it is ranking (and ranking highly) for search terms that are relevant to your business. According to a study by Backlinko, the top three Google search results get 75.1% of all clicks for a given keyword. Therefore, it's important for businesses to monitor their keyword rankings and take steps to continually improve their rankings. Some SEO strategies include writing content around a certain keyword, improving internal linking, and earning authoritative links from third-party websites.
Social media marketing
Social media marketing has exploded in recent years, as customers have begun to spend more and more time on social media platforms. Social media can be a great way for brands to connect with their target audience and increase brand awareness. Since brands can respond to comments and messages through their social media accounts, this type of marketing can also be useful for building brand loyalty and offering customer service. 
Related: Which Social Media Platforms Should I Use for My Business?
Resources for Learning Digital Marketing 
According to the Bureau of Labor Statistics, management positions in marketing usually require a bachelor's degree, but this degree does not necessarily have to be in marketing. If you already hold a degree in a field such as liberal arts, communications, or business, you may be well-prepared for a career in digital marketing. 
Digital marketing beginners may benefit from seeking out additional resources before applying for jobs. Thankfully, there are a variety of ways to grow your marketing skill set without having to complete a full degree program. 
Explore industry blogs
Even if you haven't landed a digital marketing job quite yet, keeping your finger on the pulse of the industry can give you a competitive advantage and prepare you for the next stage in your career. Consider taking fifteen or so minutes out of your day to catch up on the latest digital marketing news. 
Some notable digital marketing blogs include:
Become familiar with popular marketing tools 
Knowing your way around certain tools is essential for any digital marketer. Even if you don't end up using some of these tools in your role, having a baseline understanding of the most widely-used marketing tools can help you collaborate with your team. 
Below are just a few examples of tools that are commonly used by digital marketers:
While many of these tools require a subscription, some may offer free trials. As a bonus, many of these companies have additional resources on their websites—such as free guides or blog posts—that can help you become familiar with certain digital marketing strategies. 
Earn a certificate 
Did you know that you can gain formal digital marketing education without completing a full degree program? With online certificate programs, such as those offered by Wharton Online, you can develop the skills you need for a career in digital marketing. And since Wharton Online's programs are 100% online, you can study at your own pace—making this a great option for learners who are working part-time or full-time. 
Earning a certificate can help you stand out from the crowd and give you a leg up when it comes time to interview for digital marketing jobs. 
Related: Learner Uses Digital Marketing Certificate Program to Transition Into the Virtual Event Space
Jumpstart Your Digital Marketing Career With Wharton Online
Are you looking to start a career in digital marketing, or hoping to implement digital marketing strategies within your current organization? Wharton Online's Digital Marketing Certificate Program can help. The 100% online program is designed for digital marketing beginners and features courses on marketing analytics, customer relationships, consumer psychology, and more. Request more information today to learn how digital marketing can put your career in high gear. 
For more details on the topics covered here, download our free eBook, "The Digital Marketing Guide for Non–Marketers."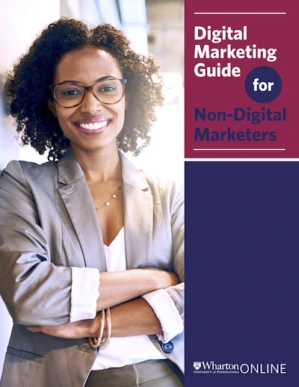 Download our eBook: The Digital Marketing Guide for Non-Marketers
The marketing industry has changed significantly over the years. Download our free eBook, "The Digital Marketing Guide for Non-Marketers," to learn the fundamentals of digital marketing—from SEO and content strategy to paid advertising and social media tactics.