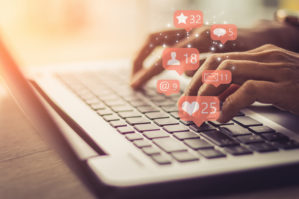 You might use Facebook to catch up with college buddies, Snapchat and Instagram to share funny memes, and LinkedIn to connect with professionals in your industry. But how do you translate the use of these social media platforms for your business? Should you be on all the same channels? Post similar things? Connect in the same ways? To sum it up, what social media sites should your business be on?
You're probably aware of how powerful social media is for business. According to Sprout Social, it's common for customers to engage with brands on social media. Consider:
74 percent of consumers share video content from brands on social media.
57 percent of consumers have reached out to a brand on social media because they had a question.
45 percent of consumers reach out to brands on social media to get an issue with a product or service resolved, and 34 percent reach out to brands to tell them they've done a great job.
Social media provides an instant way for your business to build relationships with customers. Customers expect your brand to be listening on social media. HubSpot reports 50 percent of customers will ditch a business that doesn't respond to a negative social media posts, and 80 percent of customers want a response within 24 hours.
Social media channels provide the following benefits for businesses:
You can build brand awareness, which is especially important for new businesses.
You can provide customer support.
You can teach, educate and inform customers about new products and services.
You can use social media to market your business.
You can build up a better business reputation through connecting with customers.
So you know social media is essential for business. But, what social media accounts should your business utilize? With dozens out there, let's hone in on some of the most widely used ones and how you can put them to work for your business.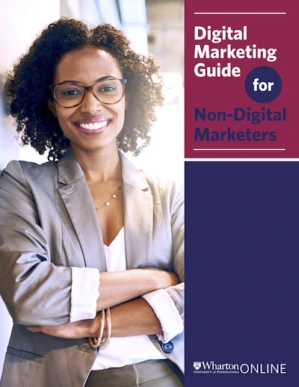 Download our eBook: The Digital Marketing Guide for Non-Marketers
The marketing industry has changed significantly over the years. Download our free eBook, "The Digital Marketing Guide for Non-Marketers," to learn the fundamentals of digital marketing—from SEO and content strategy to paid advertising and social media tactics.
1. Facebook for Business
No matter what controversy it's embroiled in, Facebook still remains one of the most popular ways for people to keep in touch with friends, family and brands. Pew Research Center reports in April 2019, 69 percent of American adults used Facebook. Among ages 18-64, usage is between 68 percent to 84 percent depending on the age group, then it drops down to 46 percent for seniors.
Unless your business is targeted exclusively to seniors, Facebook should be part of your social media strategy for the sheer number of people who use it. You can upload videos to Facebook, share blog links, message individuals who have customer service concerns, share promotions about your business and get online reviews.
Facebook also has significant capabilities as a search engine. There are more than 1.5 billion searches on Facebook every day for local businesses, services and products, Search Engine Watch reports. That's about 40 percent of the total searches on Google, which is very significant. With much of your target audience using Facebook, your brand should have a presence there.
2. YouTube for Business
YouTube is actually the most widely used social network in the United States, with 73 percent of adults using it. Some notable usage: Pew reports at least 87 percent of those ages 18 to 49 use YouTube, while 38 percent of adults ages 65 and older use YouTube.
Google owns YouTube, which makes YouTube a social network to be on if you want your business to land high in search results. You can use YouTube to create videos to:
Share blog content in a visual way.
Convey an emotionally-charged message effectively.
Create explainer videos for your products.
Land in search results for people searching terms on Google and YouTube.
Embed videos in your blog posts to keep users engaged.
Video content is extremely important to reach consumers today. A 2019 whitepaper by Cisco found in 2017, video traffic accounted for 75 percent of online time. By 2022, that will rise to 82 percent, at a compound annual growth rate of 33 percent. You want to make sure your brand has a video presence and will reach your audience whose video consumption is only expected to grow.
3. Instagram for Business
Instagram, a photo- and video-sharing social network owned by Facebook, is the third most popular social network in the U.S. While 37 percent of total American adults use it, it's particularly popular with younger demographics.
75 percent of adults ages 18-24 use Instagram.
57 percent of adults ages 25-29 use Instagram.
If your business targets 18-to-29-year-olds, you want to be on Instagram to reach the 67 percent of them who are active on the channel.
Instagram is focused on the visuals. Even though photos and videos shared on Instagram can be captioned, it's the visual that draws users in and compels them to read a description.
Visual brands like restaurants, hotels and travel brands, fashion and apparel brands, food brands, art and design brands and the like should definitely have a presence on Instagram. Their products draw people in by being visually appealing, so it makes perfect sense.
But even brands without a physical product – like a consulting firm or technology service – can still connect with customers on Instagram. Instagram is a great place to:
Show off company culture and team members.
Display photos and videos from events the company has a presence at.
Share inspirational quotes.
Repost content from users to build relationships.
Users find content on Instagram using hashtags, so you'll want to add relevant keyword hashtags to photo and video descriptions to make them more searchable.
4. Twitter for Business
Twitter: the social network that our current president uses as his main communication channel. That's got to give it some clout, right?
On the surface, Twitter may not seem that important for businesses. Only 22 percent of American adults use it, including 38 percent of those ages 18-29 and 26 percent of those ages 30-49.
But before you dismiss it for your business, consider this: 70 percent of journalists see Twitter as a valuable social media tool, according to a survey from Muck Rack, and 27 percent of journalists see Twitter as their primary news source.
Do you want press coverage for your brand? Would you rather build a one-on-one relationship with the journalist you want to cover your business than send out a generic press release to the wires (which 53 percent of journalists dismiss, anyway)?
Twitter isn't just a hot spot for traditional news journalists. Influencers and bloggers also use Twitter. Unlike Facebook, where you're not able to message an individual from your business page unless they've contacted you first, you can communicate directly with Twitter users through direct messaging. That makes Twitter a powerful tool for connecting with influencers who may cover your brand in the news, on blogs, on TV and in their Twitter feeds, sharing your brand with their followings.
And, of course, if you're using Twitter as a public relations tool, you can also connect with its audience and your target customers there. Like Instagram, hashtags are widely used on Twitter, so be sure to add those to Tweets.
5. LinkedIn for Business
LinkedIn is a social networking site for professionals. You can also add a company page to LinkedIn, which can provide the following benefits:
You can share news and updates on your page.
LinkedIn users can follow your page to receive regular updates.
A LinkedIn page is a positive search result for your business.
Business owners should definitely have a presence on LinkedIn with a personal page. Even though LinkedIn has just 27 percent of Americans on the social network, there are more than 610 million LinkedIn users in more than 200 countries and territories worldwide. LinkedIn is indispensable for making new professional connections, especially around the globe.
If you're a B2B business, LinkedIn makes sense to be on. A LinkedIn report shows 80 percent of B2B marketing leads from social media come through LinkedIn. Also, HubSpot data reports LinkedIn generates the highest visitor-to-lead conversion rate of any social network at 2.74 percent, which is 3 times higher than Twitter and Facebook.
B2B businesses should definitely have a LinkedIn presence, but all business owners should have a personal profile. B2C companies can also benefit from a LinkedIn page, since you can connect with customers, recruit better candidates and build brand awareness on the channel.
Some Other Social Networks to Consider for Your Small Business
Of course, these five social media networks aren't the only ones to consider. Here are some quick notes about a few other popular ones to look into further if they sound like a fit for your business.
Pinterest
Pinterest is another visual-heavy social network, where users can "Pin" items they find on the web to "boards," sort of like a vision board. Out of American adults, 42 percent of women are on Pinterest, and nearly one-third of those ages 18-49 are on Pinterest.
If you're a brand that uses visuals heavily in marketing, sign up for a profile. You can create your own branded boards that feature images from your blogs and website, and also create boards where you source Pins from other users to build relationships. If your business targets females, Pinterest is also definitely worth considering signing up for a profile on.
Snapchat
Snapchat is another photo- and video-sharing network that is often compared to Instagram. It's most popular with younger generations, with 62 percent of those ages 18-29 on the social network, similar to Instagram numbers.
If you're on Instagram, consider signing up for a Snapchat account, too. But, make the messages and visuals you share on Snapchat different than what you share on Instagram, so you give users a reason to follow you on both channels.
Snapchat's vibe tends to be a little sillier, looser and less polished than Instagram because it launched the use of "filters" you can overlay on posts. Keep that in mind when posting, too.
Tumblr
Are you pretty sure that some of your target customers are Taylor Swift fans? Sign up for Tumblr, the social network Swift often promotes and draws fan inspiration from.
Tumblr has more than 345 million registered accounts. It's part blogging platform, part social network, where users can write posts or share photos, videos and GIFs, and other users can interact with them.
Tumblr users skew young, with Statista reporting 43 percent of 18-to-24-year-olds in the U.S. are on Tumblr, and 34 percent of 25-to-34-year-olds. From there, usage drops to 26 percent for 35-to-44-year-olds.
As a brand, you can build customer relationships on Tumblr by re-blogging content, interacting with users and tagging your own posts with keyword-rich descriptions to make them more searchable.
Get Social to Gain Success
We've mentioned many social media channels here. It's important to remember that you're likely to have more success by choosing one or a few that you can dedicate time to and really engage with their communities, rather than spreading your brand out among many and posting the same types of messages without connecting with the users.
Social media success is based on being an active participant. Don't just post brand messages. Comment on and share user content, reply to comments people post on your page and look at channels as a way to build relationships.
Get more digital marketing insights like these by downloading our ebook, The Digital Marketing Guide for Non-Digital Marketers.