Consumers have all the information they could want at their fingertips. That means they're using that information to research the businesses they're considering purchasing from – like yours.
According to the BrightLocal Local Consumer Review Survey 2018:
86% of consumers read reviews for local businesses
95% of people ages 18 to 34 read local business reviews
Consumers read an average of 10 reviews online before they feel they can trust a business
Consumers value recent reviews – 40% only take into account reviews written within the past 2 weeks, a 22% year-over-year increase
57% of consumers will only buy from a business that has 4 or more stars
91% of 18-to-34-year-old consumers trust reviews online as much as recommendations from friends and family
Your online reputation can make or break consumers' decisions to purchase from you. Here's what is involved with an online reputation, how to improve the reviews you get and how to deal with feedback about your small business online.
1. What's Included in an Online Reputation?
Your small business reputation management includes monitoring reviews that are posted about your business. If you're a brick and mortar business, those reviews will be in places like Yelp and Google My Business. If you're an ecommerce store, online reviews may be about products that are sold on marketplaces like Amazon and Etsy, or even on your own website.
Your online reputation also includes:
News about your business, such as articles published online by newspapers
Chatter about your business, including in forums, on social media and in online comments
Blog posts about your business
To accurately monitor the sentiment of your business online, take the following steps.
Set Up Profiles on Review Sites
Each review site your business has a presence on is a reflection of your brand. Take control so that you provide an excellent user experience for reviewers on those sites.
Claim a vanity URL that features your business name on sites that allow this, like Facebook Business. Make sure all contact information is up-to-date and complete. Write an accurate, compelling and keyword-rich description so your review site will pop up in search.
Set Up Google Alerts for Your Business
The Google Alerts tool lets you put in keywords related to your business, so whenever online news comes up about your business, you see it.
Designate a Community Manager
You need to have someone who is actively managing your online reputation. Not responding to reviews can hurt your business. For example, Convince & Convert reports 42% of consumers complaining on social media expect a response within an hour.
Make sure your community manager is active on your social media channels, checks in with review sites daily and gets Google Alerts for business news. You should create a protocol for review responses, even if it's a simple message like, "Thank you for your review. We're listening and will be in touch shortly."
Now that you know what you need to monitor for your business online reputation, here's how to improve it and make it stand out among the competition.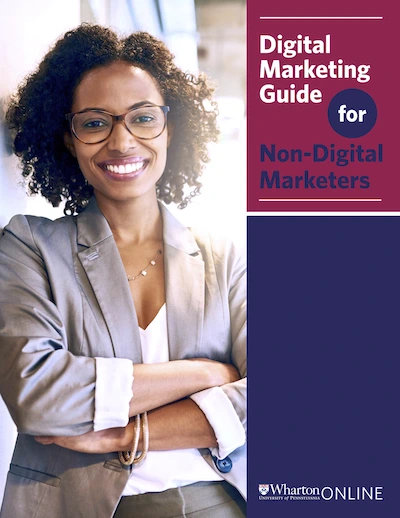 Download our eBook: The Digital Marketing Guide for Non-Marketers
The marketing industry has changed significantly over the years. Download our free eBook, "The Digital Marketing Guide for Non-Marketers," to learn the fundamentals of digital marketing—from SEO and content strategy to paid advertising and social media tactics.
2. How to Improve an Online Reputation
Online business reputation management is important for a variety of reasons. A great reputation helps you attract more leads. As more people review your site, the credibility of your business improves.
Online reviews can help you boost your search results, too. Moz reports Google My Business signals and review signals are two of the top three search engine factors affecting local business search results.
Both the quantity and the quality of reviews are important. An analysis of 54,376 local listings by RevenueJump found the highest-ranked listings on Google's local results had an average of 38 reviews, while the lowest had an average of 14 reviews. Get more positive reviews with these tactics.
Ask
Yes, it's that simple. Search Engine Land reports 70% of customers will review a business when they're asked.
If you get feedback from a happy customer in person, mention you're on review sites and greatly appreciate customer reviews. You can use email marketing to send out a message to your most loyal customers asking for a review. Add review site links to your website and social media pages, so they're easy to find.
Spotlight Positive Reviews
When you get a great review, reach out to the customer to ask for permission to use it in marketing materials. If you get permission, you can turn the review into an eye-catching infographic testimonial.
You can then share the testimonial in email and on social media. Other customers might want to get recognized by your business by leaving a positive review, too.
Provide Amazing Services or Products
How your business treats its customers is the most important factor influencing reviews. Aim to provide excellent products and services so that a positive review is the only option.
Things to Consider Besides Review Sites
Beyond review sites, you also want positive news about your business circulating online so if people search for your company, they'll see it. You can get more positive blog mentions and news articles with a public relations and/or influencer marketing strategy.
Identify influencers in your industry on social media and in the content marketing space. You can use a tool like BuzzSumo to find them. Then, you can reach out to them with an offer for a free product or service in hopes you'll get an honest review.
Target influencers and bloggers who have engaged audiences and whose content fits your product or service. Focus on creating a relationship with the influencer before pushing your product on them. Provide them with information that can help them when they're creating content, like a fact sheet or images.
Again, the quality of your product or service will determine success when you're working with bloggers and influencers. If you present a bad offer, you'll only get more negative reviews and news about your business.
3. How to Deal With Online Feedback
If a customer called up your company to talk about the service you received, you wouldn't ignore their call or listen and hang up without saying anything. The same goes for online reviews.
Whether the feedback is positive or negative, your business should respond to it because that's a way to build relationships with customers.
Review responses can also affect your search results. Google cites a way to improve your local ranking on the search engine is to manage and respond to reviews. That's because when you respond, you show you value customers and their feedback.
When you receive reviews for your business, take these steps.
Say Thank You
A customer took time to write a review about your business – that's valuable. Think about what you might spend on creating and sending out customer surveys and analyzing feedback.
Review sites give you free feedback. Say thank you to the customer for their time, no matter how positive or negative the review is.
Address the Comment
If the feedback is negative, don't get defensive. Let the customer know you are investigating the situation. Use the details from the review (day/time the incident happened, staff members involved, etc.) to consult with the right parties and hear their side of what happened.
If the review is positive, reiterate the feedback from the review in the comment. For example, if a diner says the service they received at your restaurant was amazing, you could respond, "Thank you so much for the feedback. We train our staff to treat every diner like a family member and are happy to hear we succeeded." This comment shows other customers the value you place in staff training.
Continue Conversations Regarding Negative Feedback Offline
If someone does provide negative feedback through a review or on social media, ask the reviewer for a separate chat offline. This way, you're not having a public back-and-forth conversation. You can gather more details in a phone call or private email.
Make an offer to the negative reviewer to try your business again. State that you are addressing the issues they experienced the first time and would like to provide a free opportunity to them to try you out again.
A study of 2,000 review site reviewers found that 39% of customers leaving negative feedback do so because they want the company to apologize. Be contrite on the review site, and follow up personally with the customer.
In some cases, the then-angry customer will remove their negative review or update their review with a more positive one. Your business comes out on top for valuing customer feedback and responding appropriately.
How to Deal With Press About Your Business
If someone writes up a positive blog post or article about your business, or films a glowing video review, show the content creator appreciation by sharing what they've created. When your brand promotes that influencer, that helps them grow their brand. They might be more likely to create more positive content about your business in the future.
If you receive negative press, through an article, blog post or video, you'll want to mitigate the fallout. Contact the reviewer directly and ask for an offline conversation. Tell them you're interested in learning more about their point-of-view and want to take action to fix the problems they've mentioned.
Reviews and Sentiment Impact Your Business
What people say about your business can determine its success. Take reviews and press about your company seriously. When it's negative, you can take steps to rectify the situation and possibly garner more positive press for your business. When it's positive, recognize reviewers and influencers for taking the time to praise your business.
For more digital marketing tips, including extended info about online reputation management, download the ebook, "The Digital Marketing Guide for Non-Digital Marketers."