The Executive's Guide to Leading Multi-Generational Teams
Learn the best practices for managing dynamic teams
Most executives in the workplace manage teams that are made up of up to five generations:  The Silent Generation, Baby Boomers, Generation Xers, Millennials, and Generation Z. To better equip leaders with the tools they need to successfully manage a multigenerational team, this eBook discusses the differences between the generations you may encounter at work, and explore how best to manage groups of individuals who bring different experiences, values, and expectations to the table.
Topics covered include:
The different generations in the workforce today
How to leverage generational differences in the workplace to get the best results
How to motivate a cross-generational team, including the importance of offering customized rewards, incentives, and recognition programs
Effective strategies for cross-generational leadership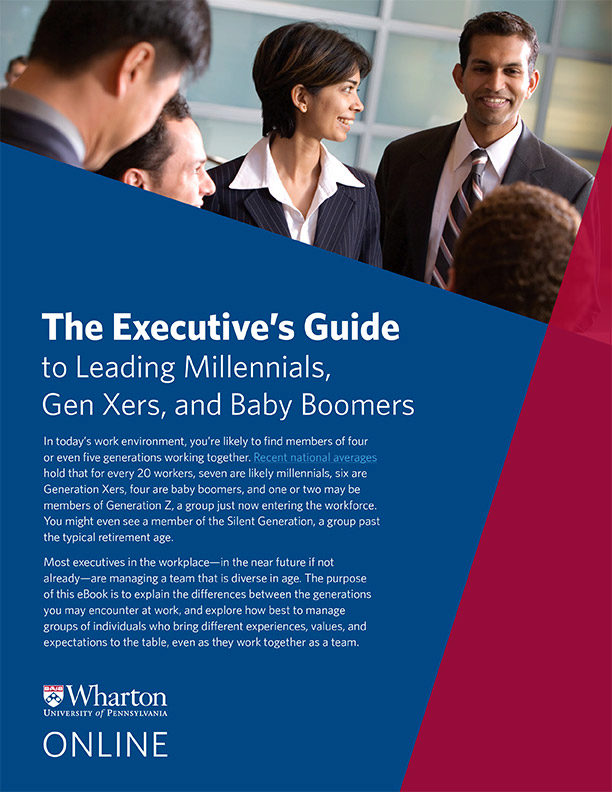 Why study leading multi-generational teams?
The insights shared in this eBook will help you gain an understanding of what makes each generation tick so you can help your employees find common ground. Leading staff that includes multiple generations can be a challenge, but learning to do it well will pay off in multiple ways for your company.
Profit, turnover, recruitment success, customer relations, good will, staff cooperation, and development of future leaders can all increase in a company that values the contributions made by each generational group, no matter their age.
Questions?
We want to help you take your learning to the next level.
Click below to begin the conversation.