Women in Leadership: The Data-Driven Guide to Leadership Skills for Women
With a growing percentage of women in the workplace and higher education, we're seeing a change in corporate culture. Though women have made tremendous strides in the past generations in terms of employment and education, women still lack representation in management roles, especially at the executive level. This guide will illustrate the past and present state of women in leadership roles, with illuminating data and strategies on how to obtain and succeed in a leadership role.
Topics covered include:
Historical context of women in the working world
Obstacles women face in leadership roles
Data on gender bias in the workplace, the pay gap, and the lack of women in executive roles
Actionable strategies and tips for thriving in management roles
Opportunities for women in leadership
Insights on the journey to the C-Suite and executive roles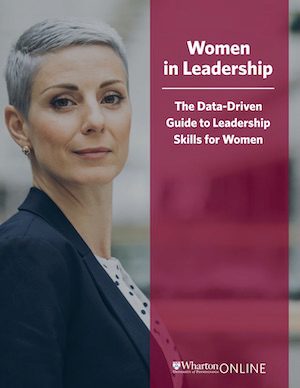 Why Study Women in Leadership?
Women have more undergraduate and postgraduate degrees than their male counterparts, but still make significantly less compensation for the same work, and represent a small fraction of executives. Getting more women into leadership roles is crucial to promoting equality and culture in the modern world. Studying women in leadership empowers you to promote gender diversity and advance your career, while making a positive impact on your organization's bottom line.
This eBook will provide recent data, historical context, and best practices for overcoming the management gap for women. The insights shared in the eBook will help you gain an understanding of the state of women in leadership, with data-driven strategies for rising in the ranks, from the individual contributor to the C-Suite.
Learn about women in leadership with our eBook Women in Leadership: The Data-Driven Guide to Leadership Skills for Women