Why Women's Leadership Conferences Matter
Women leaders bring valuable, unique perspectives to businesses in all types of industries. Yet, women still lag far behind males in top leadership roles.
According to the Center for American Progress, while women constitute a majority of the U.S. population, only 5% of Fortune 500 CEOs are women. Women occupy only 10% of top management positions in S&P 1500 companies.
There are women in leadership conference options around the world designed to help close this gap and increase gender equality in leadership roles. At leadership conferences, women can network with other ambitious women including business owners and entrepreneurs, hear from keynote speakers who have overcome struggles and challenges to achieve amazing accomplishments, and gain tools and practical tips to help them rise up the leadership ranks.
Here are 30 diverse leadership conferences around the world where women can gain leadership skills to help them grow professionally and all-around.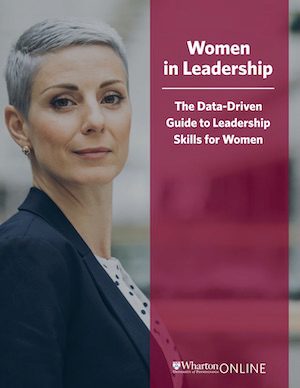 Download our eBook: Women in Leadership
Women represent more of the workforce than they used to, but they're still underrepresented in management. Download our free eBook, "Women in Leadership: The Data-Driven Guide to Leadership Skills for Women," for a detailed look at what obstacles exist for women pursuing leadership roles and how to overcome them.
Top Women in Leadership Conferences
*Given current travel condition, please check conference website to confirm status.
American Conferences for Women Leadership
Alt Summit 2020
www.altitudesumAlt Summitmit.com
March 1-6, 2020, The Saguaro Palm Springs, Ace Hotel & Swim Club Palm Springs, Riviera Palm Springs
The Alt Summit includes networking, keynote speakers, panels, workshops, TED-style talks, maker space demos, screenings, complimentary headshots, field trips, tours and social events. Past keynote speakers have included Martha Stewart, Joanna Gaines and Jessica Alba. There will be more than 300 additional teachers and speakers available for one-on-one meetings. Tickets costs $799 for individuals and $2,000 for businesses.
View this post on Instagram
#BlogHer
Multiple throughout the year. Next one is #BlogHer20 Parenting – April 24th, 2020, Nashville, Tennessee 
BlogHer has been putting on conferences with various themes for the past 15 years, designed to inspire female bloggers, entrepreneurs, influencers and activists. Past speakers have included Serena Williams, Chelsea Clinton and Christina Tosi. In 2019, the #BlogHer19 Biz conference took place in Los Angeles, featuring interviews, workshops, networking and more. Other 2019 events focused on food, health and a creators summit, held at locations throughout the country. More to come in 2020.
Create & Cultivate
www.createcultivate.com/los-angeles-2020
February 22, 2020, Rolling Greens
Create & Cultivate is a conference for female entrepreneurs, with two unique tracks that each features keynotes, panels, mentorship meetings, workshops and fireside chats. One of the speakers announced for 2020 is Elly Gheno, founder of Bootaybag, while past speakers have included Meghan Markle. General admission tickets are $350, and VIP tickets cost $575.
Hey LA! We're bringing you our beloved C&C career conference to our hometown on Feb 22.
Get ready! This is going to be our biggest conference yet, with more workshops and a stellar lineup! Get your tickets here: https://t.co/XubbeZgrEe pic.twitter.com/y5GRQfb4jo

— Create & Cultivate (@createcultivate) December 2, 2019
eWN ICON 2020
July 22-25, 2020, Frisco Convention Center
The 20th annual eWN ICON 2020 conference is sponsored by the eWomenNetwork, a network of more than 500,000 women connected through 118 chapters across the U.S., Canada and Australia. The conference is geared toward women business owners and entrepreneurs and covers marketing and business-building strategies, technology tools, business financing, social media and more. Speakers include experts from the Sandra Yancey RISE Team, and attendees have access to one-on-one coaching sessions with the eWomenNetwork team of success coaches. Tickets cost $1,495 for eWomenNetwork members and $1,895 for non-members.
View this post on Instagram
ForbesLive
Multiple Dates and Locations
Forbes Blockchain 50
March 17, New York, NY
Forbes CIO Summit
April 5-6, Half Moon Bay, CA
Forbes Under 30 Summit
April 19-23, Botswana, Africa
Forbes Small Business Summit
May 19, New York, NY
…and many more!
ForbesLive is a collection of global events for leaders, geared towards audiences such as CMOs and CIOs, leaders under the age of 30 and leaders in healthcare. The annual Forbes Women's Summit takes place in summer, and in 2019, fashion designer and chairman Tory Burch was a speaker. Events include speakers, networking, fireside chats and other activities. Some invitation-only events require that attendees apply to attend.
Girlboss Rally
April 25, 2020, Los Angeles, CA
The Girlboss Rally is an annual event bringing together female entrepreneurs and thought leaders for guest speaker sessions, networking and collaboration through hands-on workshops on topics like budgeting for startups. Past speakers have included activist Lizzie Velazquez, actress and wellness brand founder Gwyneth Paltrow and poet Rupi Kaur. Cost ranges from around $325-$550.
View this post on Instagram
Grace Hopper Celebration
September 29-October 2, 2020, Orange County Convention Center
Calling itself the world's largest gathering of women technologists, the Grace Hopper Celebration is an annual event providing events, keynotes, networking, breakout sessions and panels for women leaders in technology. The Grace Hopper Celebration is sponsored by AnitaB.org, a social enterprise network supporting women in technical fields and organizations that employ them.
ICAN Women's Leadership Conference
May 13, 2020, CHI Health Center
The 27th annual 2020 ICAN Women's Leadership Conference in Omaha, Nebraska, has a theme of "ensemble," inspiring leaders to elevate their team's performance. The day will examine ways to enhance teamwork, networked connectivity, maximized strategy and cross-disciplinary collaboration. The event includes keynote speakers (past speakers have included Suze Orman), as well as breakout sessions. Tickets cost $410-$429 for individuals, $299 for small business individuals and $199 for students.
Massachusetts Conference for Women
Dates TBD, location TBD
This annual conference, held at the Boston Convention & Exhibition Center in 2019, features speakers, seminars, workshops and networking opportunities for attendees. In 2019, keynote speakers included award-winning journalist Celeste Headlee, two-time World Cup Champion Megan Rapinoe and author Simon Sinek. Tickets are around $225.
"From the moment I started receiving, its your duty to give… the sign of abundance is the opportunity to continually give" @YaraShahidi #SoInspring #MassWomen pic.twitter.com/mHcuf50LwA

— MichelleRagusaMcBain (@MichelleRagusa) December 12, 2019
Mobilize Women 2020: A Summit Hosted by Ellevate Network
www.ellevatenetwork.com/events/10214-mobilize-women-2020-a-summit-hosted-by-ellevate-network
June 26, 2020, New York, NY
The 4th Mobilize Women Summit will take place in 2020 in New York City, bringing together thought leaders in business, science, media, sports and other industries. Past speakers have included Mastercard president and CEO Ajay Banga, Obama Foundation senior adviser Valerie Jarrett and civil rights activist DeRay McKesson. Tickets range from $500 for Ellevate members to $1,000 for non-members.
View this post on Instagram
NEW Leadership Summit 2020
September 29-October 1, 2020, Hyatt Regency
This leadership summit in Dallas features keynote speakers, fireside chats, collaborative learning sessions, panels, case studies and social events. In 2019, speakers included Coca-Cola Company Global Chief Diversity and Inclusion Officer Lori George Billingsley and Network of Executive Women president and CEO Sarah Alter.
It is our honor to recognize the individuals who go above and beyond to advance our mission at our NEW Impact Awards Celebration! Congrats to NEW's Ambassador IMPACT award recipients: Chad Ruegsegger, Sarah Pew, Amy Alt, Katie Berner and Nicole Wright! pic.twitter.com/ybpXOxh4Iy

— Network of Executive Women (@NEWNational) October 11, 2019
Pennsylvania Conference for Women
November 10-11, 2020, Pennsylvania Convention Center
The Pennsylvania Conference for Women features more than 100 speakers on topics like entrepreneurship, executive leadership, small business and personal finance. The Workplace Summit, held on the first day, targets female and male managers who want to create collaborative workplaces. The conference features workshops, seminars and keynote speakers. Tickets are around $225.
Power Rising 2020
April 16-19, 2020, Hilton Baltimore
Power Rising is a conference for Black female leaders from various industries, including business, politics and publishing. The summit is organized into Business and Economic Empowerment; Culture, Community and Society; Education, Technology and Innovation; Health and Wellness; and Political Empowerment tracks. Tickets cost around $150.
View this post on Instagram
S.H.E. Summit
November 2020, New York, NY
The 9th annual S.H.E. Summit is a two-day event with more than 30 speakers and more than 20 breakout sessions, plus networking, a cocktail reception and personal development tracks. In 2019, the event was held in New York City and featured speakers including "ForbesWomen" editor Maggie McGrath and Global Head of Tech for Social Good Ali Marano. Tickets cost around $1,500 each.
Summit 21 2020
https://summit21conference.com   
June 5-6, 2020, AmericasMart Atlanta Building 2
The Summit 21 conference, which will be in its fifth year in 2020, is geared toward providing leadership education for female entrepreneurs who are women of color. Workshops and panels cover topics including how to scale audiences and brands, how to partner with brands to promote products and services, and how to monetize brands and increase income. Tickets cost $200.
View this post on Instagram
TEDWomen
www.ted.com/attend/conferences/special-events/tedwomen
Dates TBD, location TBD
The annual three-day TEDWomen conference features events, discussions, workshops and speakers covering topics related to female leadership. The agenda includes six sessions of 18-minute TED talks, simulcast spaces, group dinners and networking events, and more. The 2019 theme was Bold + Brilliant, where speakers focused on risk-taking and innovation. Cost ranges from $3,000 to $5,000 to attend.
Texas Conference for Women
September 30-October 1, 2020, Austin Convention Center
The Texas Conference for Women, which includes opening night festivities to browse the exhibit hall and network with other attendees, includes breakout sessions and keynote speakers on topics like career advancement. Past keynote speakers have included Morgan Stanley vice chairman and managing director Carla Harris and "Eat Pray Love" author Elizabeth Gilbert. Tickets are around $225.
Watermark Conference for Women
www.watermarkconferenceforwomen.org
February 11-12, 2020, San Jose McEnery Convention Center
Dozens of expert speakers including former PepsiCo CEO Indra Nooyi, TEDWomen host Pat Mitchell and author Seth Godin lead workshops and seminars on professional development topics like work/life balance and leadership. Attendees can also participate in breakout sessions and small business roundtable programming at the conference. Tickets are around $225.
View this post on Instagram
Women in the World Summit
April 1-3, 2020, New York City, NY, location TBD
Women in the World is a live journalism platform featuring interviews with some of the world's top women leaders. Former guests have included former presidential nominee Hillary Clinton, media mogul Oprah Winfrey and magazine editor Anna Wintour. Those who are interested in attending can sign up for the Women in the World newsletter to find out when tickets, around $900, go on sale.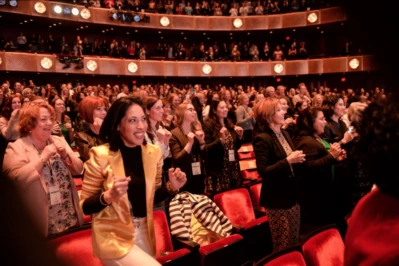 The Women of Color Leadership and Empowerment Conference
Date TBD, location TBD
This one-day annual conference includes keynote speakers, executive panels and executive sessions on topics related to global diversity, equality and inclusion. There's also a networking lunch and reception. The event is sponsored by "Color" magazine, and in 2019, the event was held in New York City.
Another successful Women of Color Leadership & Empowerment Conference in the books. ✅ Thank you @ColorMagazine for asking me back to emcee! So much fun!#WOC19 #leadership #legacy #Motivation 💕 pic.twitter.com/0TFZs5TLai

— Amaka Ubaka (@AmakaUbakaTV) June 11, 2019
Women's Leadership Conference
www.conference-board.org/conferences/conferencedetail.cfm?conferenceid=3075
May 12-13, 2020, The Westin New York at Times Square
The Women's Leadership Conference, presented by the Conference Board, is recommended for senior level women and men supporting women's advancement. The conference is driven by human capital research on how to advance gender parity. Attendees are able to engage in small-group roundtable discussions with speakers and other executives with titles like chief diversity officer and vice presidents and directors of talent management. Tickets are $2,895, with a $400 discount when registered before February 29, 2020.
World Woman Summit
June 26, 2020, San Diego, CA
The annual World Woman Summit launched in 2017 and brings together internationally recognized women leaders. Each event focuses on a theme. In 2019, the summit's theme centered on Sustainable Development Goals 2030, with keynote speakers, interviews, workshops and panel discussions on topics like social entrepreneurship, global economy and emerging technology. Headliners from 2019 included presidential candidate Marianne Williamson, author Gloria Feldt and former President of the Republic of Malawi Her Excellency Dr. Joyce Banda. Tickets in 2019 ranged from $329-$3,500.
View this post on Instagram
The Yellow Conference
August 27,28, 2020, Los Angelos, CA
June 26, 2020, Brooklyn, NY
The two-day Yellow Conference brings together entrepreneurial and creative women focused on socially conscious causes. The conference includes breakout sessions, speakers and panelists, along with a "Do-Good Goods Marketplace." In 2020, the seventh annual conference will take place in Los Angeles, welcoming women from around the world from a variety of industries.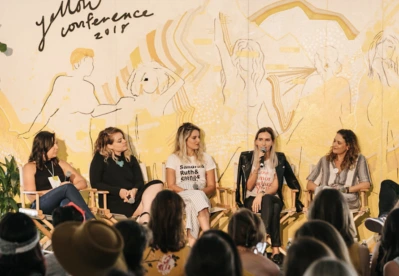 The Yeah Field Trip
April 2-5, 2020, Orcas Island
The Yeah Field Trip shuns the word "conference" to describe it. It's a gathering of artistic professionals and features hands-on workshops for photo and video artists, plus wellness experiences, classroom sessions, artists' roundtable platforms and interactive art installations. Marketing leaders serve as teachers, with past teachers including photographers Rachel Ross and Barbara Davidson. The event is geared toward all genders, but it's a unique camp-like experience that can inspire female creative leaders.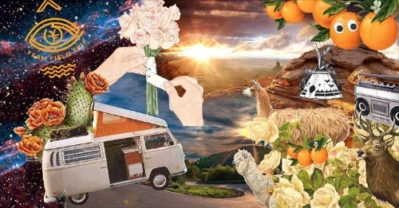 Global Conferences for Women Leadership
d&i Leaders Global Forum 2020
January 28-29, 2020, Park Plaza Victoria London
This annual gathering of diversity, inclusion and human resources professionals features more than 40 speakers on topics concerning accelerating progress for women through workplace diversity and inclusion strategy. There will be on-stage interviews, panel discussions and more. Costs range from £545-£845.
New speaker! Rosanna Durruthy @talentalchemist, VP of Global Diversity, Inclusion & Belonging @LinkedIn will be our afternoon keynote speaker at the d&i Leaders Global Forum 2020, 28 & 29 Jan, London. Full details here – https://t.co/tA323WpjUa #DILeaders #inclusion #belonging pic.twitter.com/JCbC6Cv7Be

— d&i Leaders (@DI_Leaders) November 29, 2019
The FQ Lounge @ Davos
www.thefemalequotient.com/fq-lounge
January 21-23, 2020, Davos, Switzerland
The FQ Lounge @ Davos is a global conference sponsored by the Female Quotient, a female-owned business focused on advancing gender equality in the workplace. The first FQ Lounge took place in 2012, and the event has grown into conferences around the world. This FQ Lounge @ Davos event features talks by female leaders and collaboration sessions on business topics.
FWA 2020 International Business Conference – Israel
https://member.fwa.org/events/event_details.asp?legacy=1&id=1286854
February 9-14, 2020, Tel Aviv and Jerusalem, Israel, locations TBD
Sponsored by the Financial Women's Association (FWA), this conference features presentations by leaders in fintech, business, energy, life sciences and other diverse industries. Israeli women leaders in sectors including securities, government, media and culture will be a part of the speaker series. Tickets are $1,500 for FWA members and $2,000 for non-members.
Global Advancement of Women Conference
Dates TBD, location TBD
The Global Advancement of Women Conference, presented by Working Mother Media, will be in its 15th year in fall 2020. The 2019 event was held in Dubai for the first time and had the theme Aspire, Adapt and Advance. At the conference, professional women gain tools and strategies for leadership and learn insights to manage work-life balance through keynote speakers, panel discussions and workshops. Cost is around $495.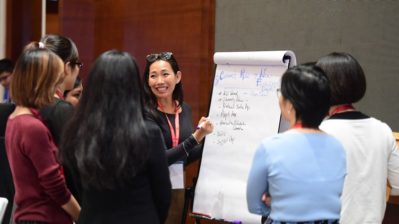 Global Summit of Women
www.globewomen.org/globalsummit
April 23-25, 2020, Bangkok, Thailand
This global event, held at rotating locations each year, focuses on topics such as promoting ethical corporate governance, uplifting families and communities, and preserving the planet's resources for future growth. The event includes networking events, breakout sessions and entrepreneurial tracks, with top Thai women leaders included in the 2020 speaker line-up. Tickets range from $675-$1,000.
MWC Barcelona 2020
www.mwcbarcelona.com/experiences/gsma-women4tech/
February 24-27, 2020, Fira Gran Via
This will be the fourth year for Women4Tech at MWC Barcelona 2020. Women4Tech activities include keynote presentations and panel discussions focused on diversity and inclusion for technology organizations, as well as empowerment coaching, networking and a roundtable. Passes range from between around €2,199 to €4,699, depending on VIP access.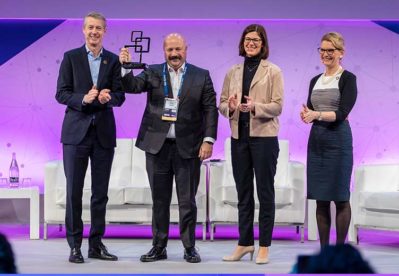 Put These Women's Leadership Conferences on Your 2020 Calendar
It's never too early to start planning your 2020 calendar with leadership conferences where you can learn new skills, gain inspiration and meet like-minded women who want to make a difference in their careers and in the world. Put these conferences on your radar now, since many sell out quickly.
To learn more about women and leadership, download our free ebook, "Women in Leadership: The Data-Driven Guide ro Leadership Skills for Women".