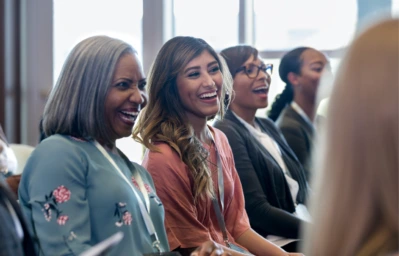 In the United States, 47% of the labor force is female but just 21% of the five main C-suite positions are held by women. There are many reasons why we see a smaller percentage of women in leadership roles. Some women choose career paths that won't lead to a leadership position while some studies point the finger at implicit bias which results in hiring discrimination. In response, professional business women's associations are working hard to train and support more women aspiring to join the boys in the C-suite.
Joining a professional women's organization can make a massive difference in a woman's career. Whether you are just starting your professional journey, making a switch to a new field, or considering launching a new enterprise, there is an organization out there that's just right for you. To find the perfect fit for your aspirations, browse the list of professional women's organizations below.
Top General Women's Business Associations
American Business Women's Association
ABWA's members work in diverse occupations across the country but are unified in their dedication to professional growth and success. The organization offers professional development and networking opportunities for members, as well as national recognition of members' achievements. ABWA membership is beneficial for women beginning a career, searching for a job, or thinking of starting a new business.
Business and Professional Women International
With affiliates in more than 100 countries; BPW is an influential women's network offering development programs in leadership and e-Business training, as well as mentoring programs. If you are interested in making a business impact beyond America's borders, joining BPW could be of great help in achieving that goal.
International Association of Women
IAW is a global network of professional women creating an online community that supports each others' path to success. This organization goes beyond networking and offers members opportunities to promote their businesses, gain career and business development skills, and improve their professional knowledge. Individual chapter meetings often feature influential guest speakers.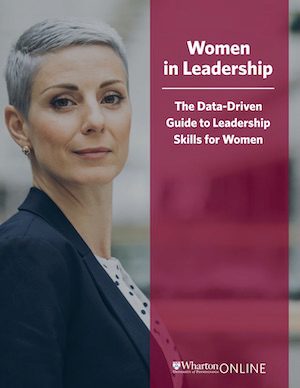 Download our eBook: Women in Leadership
Women represent more of the workforce than they used to, but they're still underrepresented in management. Download our free eBook, "Women in Leadership: The Data-Driven Guide to Leadership Skills for Women," for a detailed look at what obstacles exist for women pursuing leadership roles and how to overcome them.

Office of Women's Business Ownership
As part of the United States Small Business Association, the Office of Women's Business Ownership offers training and mentoring programs to help women start or grow businesses. The Office provides grant opportunities and online training curriculum, particularly for socially or economically disadvantaged female entrepreneurs.
National Association for Female Executives
NAFE is one of America's largest organizations form professional women. The association provides networking opportunities, public advocacy, and professional training to help members achieve their career goals and enter executive roles. Through the NAFE Top Companies for Executive Women program, they recognize companies and organizations that create a culture that identifies and promotes women to executive positions.
Women's Business Associations That Emphasize Diversity in the C-Suite
Minority Business Development Agency
MBDA is an agency of the United States Department of Commerce and advances public and private sector business programs in order to grow minority and women-owned companies. As part of the Department of Commerce, MBDA focuses on connecting members and companies with the bst funding sources and prime markets to help them grow.
AWIB supports Asian women as they pursue corporate and professional careers. Benefits of membership include expert-led workshops, seminars, and conferences, as well as networking opportunities and mentoring programs. Members can also take advantage of a wide array of discounts and members-only
Industry-Specific Women's Business Associations
AWM supports women working in all segments of media through networking, training, and recognizing members' professional accomplishments. Membership with AWM includes online forums, access to curated industry research, and discounts on professional networking and recognition programs and their media job board.
Association for Women in Science
AWS helps women working in scientific fields around the world connect, communicate, and succeed. Members are supported in their professional development through networking, webinars, and national events. The organization leverages research to help women working in STEM achieve equity and pursue full participation in their fields. With over 100,000 members worldwide, AWS is among the largest international women's professional organizations.
Women working in the finance sector will find plenty of benefits with FWA membership. The organization offers members access to top industry leaders , diverse training programs, and networking events. In addition, joining FWA includes membership to two other vibrant organizations: the International Alliance for Women (IAW) and the New York Women's Agenda (NYWA).
National Association of Women Sales Professionals
NAWSP lifts women in sales by providing women-centered professional development opportunities and sales training to help members reach the top 1% in sales performance. Its members are mentors, leaders, advisers, and innovators who encourage each other to pursue professional sales success.
Jump-Start Your Professional Career Through Membership
With all of these great options, you're sure to find at least one organization above that fits your needs and goals. To learn more about making your mark in business, download our eBook, Women in Leadership.