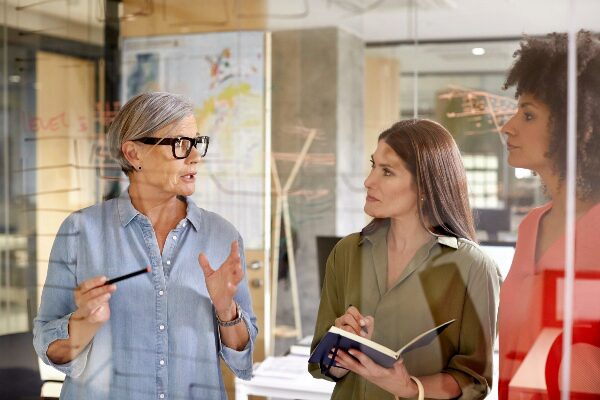 The benefits of studying leadership and management extend past the boardroom and executive team these days. Learning the associated skill set was once reserved for aspiring executives. Today, the importance of leadership and management skills is recognized for a wide range of roles and industries, regardless of job title or level of responsibility.
What are the benefits of studying leadership and management and is it worth enrolling in a certificate program? The answer depends on your goals and career path. 
An Increasingly Complex Business World
The business world has grown increasingly complex due to forces, including:
Globalization

Competition

Technological advances

Regulation increases
Additional societal changes in how people view work and value balance also impact what it means to manage teams. While gaining the acumen to work in such a dynamic and challenging environment requires real-world experience, it also takes education.
Leadership and management certificate programs can help you strategically gain skills that matter in the modern business environment. Let's look at some of the areas you'll generally explore in a well-rounded program.  
Modern Leadership Skills
Leadership skills are not stagnant. What it takes to be a successful leader today is different than it used to be. To create an organizational culture that's productive, responsive, and viable, leaders need skills that reflect the changing landscape of modern business and the workforce. 
Contemporary Management Concepts
The world continues to rapidly change, including people's:
Motivations

Goals

Challenges

Work styles
For a business to be successful, its leaders must understand how to navigate the challenges of managing and motivating diverse teams in a contemporary workforce.
Global Management Strategies
The world is more connected than ever, resulting in a rapidly-evolving and interconnected business environment. This impacts strategy, decision making, and even the structure of business operations. Those in leadership positions must understand global business dynamics, challenges, and trends to be successful. 
Corporate Strategy
The business world has always been competitive, but it's also grown more complex. This creates unique challenges for leaders tasked with the responsibility of making an organization effective and profitable. To be successful, leaders must be able to develop and execute competitive strategies that work in a global business environment.
Program Benefits
A Leadership and Management Certificate Program can be an effective way to develop critical skills as an executive. 
The benefits of enrolling in a program vary depending on your personal goals and career aspirations. Benefits include:
Professional development
A leadership and management program can enhance your current skills and give you insight into best practices and trends. It can also expose you to new ideas and cutting-edge concepts you may otherwise not learn. 
Strategic decision making
A well-rounded leadership and management certificate program can help you develop the ability to make effective business decisions. 
This can include training in:
Problem-solving 

Strategic planning

International business practices

Critical thinking
Global business knowledge
An increasingly connected world brings new business challenges. These can impact everything from supply chains and business strategy to managing diverse, international teams. 
A certificate in leadership and management offers valuable tools to navigate these and other challenges.
Professional recognition
Holding a certificate in leadership and management can demonstrate to employers, colleagues, and clients that you have knowledge and expertise in your field. While it may help you gain more success in your current role, it may also help you become more competitive on the job market.
More effective leadership
Effective leaders inspire and motivate their team members, which can lead to increased performance and productivity and improved organizational outcomes. It can also create a more positive work environment with less turnover. A leadership and management program can help you learn how to be a motivational leader that understands modern worker's challenges and needs.
Networking opportunities
Networking is an important business skill that is vital to career success. Making valuable connections can help improve the trajectory of your career, giving you insight and access to opportunities. When you enroll in a leadership and management program, you can expand your network to include the executives and business professionals enrolled with you.
Making Time for Education
Education can come with many benefits, but it also has some challenges, such as how to fit it into your already busy life. Completing a leadership and management certificate program requires energy and effort. This may be more difficult for those who are also balancing the responsibilities of their families and careers. 
Many educational organizations understand the challenges associated with juggling life and education. Offering online programs that are flexible and shorter in duration has made continuing education more possible for working adults. 
If you're trying to figure out how to make time for your education, the insights and ideas that follow may help. 
Spend less time on social media
A 2021 study found that adults spend around 1,300 hours a year using social media. This breaks down to about three and a half hours a day. If this applies to you, spending less time on social media in general may free up a few hours a week for your educational pursuits.
Trade screen time for study time
At first it might seem impossible to free up two to four hours a week for coursework. However, it seems within reach if you consider trading some of the time you spend watching television or online videos. By skipping two to four shows a week you may easily free up more time to study.
Temporarily reduce your obligations
Helping your community and pursuing hobbies are good activities, but it's okay to put them on hold. If you volunteer or spend time on hobbies, you can temporarily put that time toward your education. Prioritizing your future will help you in the long run and once you reach your goal, you can pick up where you left off. 
Return on Investment of education
The return on investment (ROI) of education depends on many factors, that can include:
Program cost

Program details

Personal career goals

Job market
There are some ways to think about ROI that can help you evaluate any educational investment. No educational program can guarantee a promotion, a salary range, or even career success. You cannot put a dollar amount against the ROI of a program, but you can carefully evaluate the investment against your career aspirations. 
Consideration Questions To Help Guide You
In the end, only you can determine if an educational program is right for you. Asking yourself these questions may help:
Do you want to gain positions with more responsibility? 

Is there a title you want to hold?

Has not having the right skills and education excluded you from opportunities?
If your answer to any of these questions is yes, it makes sense to consider education as a tool to help elevate your position.
Wharton's Online Leadership and Management Certificate Program
While it can be a critical part of your professional growth, not all programs are created equal. It's important to seek out a program that is flexible, comprehensive, and aligned with modern business practices. 
Wharton's Online Leadership and Management Certificate Program can help you gain a deep understanding of leadership principles and modern management strategies. You'll have access to a world-class faculty, the latest research, and expert insights.
Because Wharton's online course lasts from four to six weeks and requires about only two to four hours a week of coursework, you can more readily fit education into your schedule.