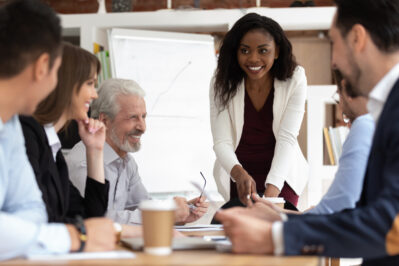 We're now in the midst of a "Great Resignation." The COVID-19 pandemic has made it clearer to professionals what they want from work and what kinds of employers they're willing to stick with. 
According to September 2021 global study by McKinsey & Company, 53% of employers said they're experiencing greater voluntary turnover than they had in previous years, while 64% expect the problem to continue or worsen over the next 6 months. 
Since April 2021, more than 19 million U.S. workers have quit their jobs, setting a record pace for employees quitting. McKinsey & Company predicts employee attrition is expected to continue, if not accelerate. The firm reports that 40% of employees say they're at least somewhat likely to quit in the next 3-6 months. The number of respondents who said their intentions ranged from likely to almost certain was 18%. 
Invest in your team to combat attrition and improve retention. Learn why employee retention is so important and how you can improve it at your company. 
First: Why Should You Care About Employee Retention?
Employee turnover is expensive. According to the Society for Human Resource Management (SHRM), it costs an average of 6 to 9 months' salary to replace a worker. Costs include
Recruiting

Hiring

Onboarding

Training
There's also the time it takes for a new hire to get up to speed and produce at the same levels your current employees do.
Retaining top employees provides benefits in addition to cost savings. When you invest in your team, you can increase employee engagement. 
Gallup research reports a lack of employee engagement is one of the top turnover causes for employees. When your workforce is engaged, you reap benefits like:
Increased customer loyalty and customer engagement rates

Increased productivity in sales, production records and evaluations

Improved collaboration and communication

Better product/service quality

Higher profitability 
Businesses that focus on improving employee engagement, not just revenue, can see benefits throughout their company and operations. 
Tips for Retaining Employees
You can strengthen your workforce, improve employee engagement and decrease turnover when you invest in your team. The following are some ideas for how to do so. 
Offer Flexible Work Options
Most businesses that could move their operations to a remote work environment did so during the pandemic. That's created lasting effects on the flexibility today's employees crave. Remote work enables many professionals to foster a better work-life balance, by eliminating a commute and giving workers the ability to balance family responsibilities with work.
Remote work is here to stay for many businesses. According to Upwork's Future Workforce Report 2021, nearly 28% of respondents are expected to be fully remote in the next 5 years. That increased from 22.9% in November 2020.
Increasingly, businesses are embracing remote work environments. An August 2020 McKinsey & Company survey found executives plan to reduce office space by 30%.
If you don't offer remote work, some of your employees may quit to work for a competitor who does. A January 2021 survey of 1,022 professionals found 29% would quit their jobs if they wouldn't be able to continue to work remotely. 
If your business can't go fully remote, consider options like hybrid work models or flexible work schedules. You can survey your workforce to see what arrangement they're interested in, then adapt yours.
Provide Learning & Development Opportunities
Many employees who plan on staying with employers long-term want to grow on the job, whether that's learning new skills or moving into higher roles that include leadership responsibilities.
A BetterBuys survey of 2,000 employees found 92% said having access to professional development was very important or important. Professional development supports retention efforts, as employees who have development opportunities have 34% higher retention and are 15% more engaged.
According to a July 2021 poll by Monster, 49% of professionals expect their employers to help them grow their careers, but 80% of employees feel their employers don't take the steps to do so. One way you can support your workforce is to provide corporate training programs. 
You can develop corporate training programs to directly support your company's goals and learning objectives. These programs can be customized or blended with real university curriculum to give employees a chance to develop their knowledge and skills. 
As your employees complete professional development courses, they can apply what they've learned in real time on the job. That helps your business produce better results, while keeping employees engaged.
Support Work-Life Balance
Today's employees are cognizant of how work affects their overall lives. With more employees willing to leave an employer for a more ideal work situation, businesses must support work-life balance in order to retain employees. 
There are business benefits to supporting work-life balance, too. According to Gartner's "2020ReimagineHR Employee Survey," businesses that support employee work-life balance achieve a:
23% increase in the amount of employees who report improved mental health

21% increase in the amount of high performers

17% increase in the amount of employees who report improved physical health
There are things you can do as an employer to support employee well-being. These include providing:
Strong benefits, including health insurance that includes mental, dental and eye health benefits

401(k) retirement accounts with employer matching

Tuition reimbursement for

job-related education

Free parental leave and childcare

Gym memberships or on-site yoga classes

Sleep improvement and stress management programs
Employee schedules and work environments also contribute to the quality of an employee's work-life balance. Survey your employees to see how you can support their work-life balance. When you listen and implement their feedback, that can increase your employee engagement and retention. 
Invest in Your Employees for Better Business Results
Your employees can make or break your business success. Provide them with benefits, learning opportunities and work-life balance support to increase employee loyalty and enthusiasm for your company. As employee engagement increases, so can revenue, profits, productivity and customer satisfaction.
If you're interested in supporting your employees' learning and development, check out the corporate training programs offered by Wharton Online. With custom, blended and group programs available, you can choose the learning opportunities that will help your employees develop their skills and perform better for your business. Request corporate training information.