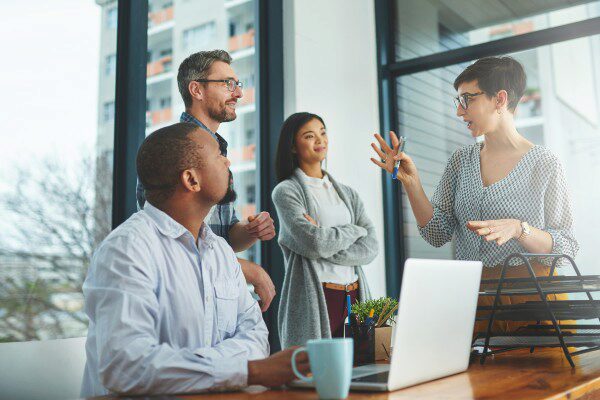 To stay competitive in evolving markets, companies need to be willing and able to change. Organizations that are stuck in their ways can easily get left in the dust, outpaced by more innovative brands. 
Gartner reports that nearly 75% of organizations expect to multiply the amount of major change initiatives they will undertake in the next three years. But without proper change management techniques, these initiatives are likely to fail. 
If you're a manager or leader at your organization, the responsibility of introducing new ideas and putting these ideas into motion may fall on your shoulders. Below is a step-by-step guide for how to inspire change at your organization.
1. Start With a Specific Vision 
Before introducing a new idea to your team or to the company at large, you'll want to make sure you have a specific goal in mind. What problem or challenge are you trying to solve? What is the desired outcome of the change? 
In addition to determining a goal, you should think about the steps that may be involved in bringing your idea to life. What departments will be most affected? Are there specific executives you'll need to reach out to for approval? 
While you can always finesse your idea later on, starting with a fully fleshed-out vision and game plan can help your coworkers buy into the value of your suggested change.
2. Explain the Reasoning Behind Your New Idea 
After you have a solid idea in place, it's time to share this idea with the changemakers in your organization. This may include department heads or executives. Whether you're presenting your idea in a formal meeting or just bringing it up in casual conversation, your persuasion skills will be key to getting buy-in from stakeholders. 
Be sure to address the following when speaking about your proposed change: 
Goals and desired outcomes 

How you came up with the idea

Examples of how the change would work 

How the change could benefit the company in the long run

Potential drawbacks 
The more evidence you can provide as to why your idea will be a good investment for the company, the more likely you are to successfully inspire change in your workplace. 
3. Take Small Steps Toward Change
Employees are naturally reluctant to change. They may not realize that there is a problem that needs to be addressed, or they may worry that the change will make their jobs more difficult. 
To mitigate employee tensions, avoid implementing change all at once. Instead, take incremental steps toward the new way of doing things. For example, if your team is merging with another department, you may start out by including the new team members in your meetings before the change officially goes into effect. This gives everyone time to get to know each other and become comfortable with the new organizational structure. 
The way in which you introduce a new process to your team depends on your leadership style and whether or not your team seems resistant to the idea. You should keep a line of communication open with your team at all times and ensure that each employee is adequately trained on the new process. 
Related: What to Know About the REDUCE Framework for Change Management
4. Gather and Respond to Team Feedback 
Motivating a team through change requires you to take the team's feedback to heart. Not only will this help your team feel supported; their insights can also be incredibly valuable for refining and adapting the change initiative.  
According to BearingPoint's Change Management Study, there are four major steps in completing a successful transformation in the workplace:
Defining the scope of the change 

Gathering insights on the change process 

Using insights to form options for further action

Experimenting with change measures 
After a change takes place at your organization, it's crucial to give employees a chance to provide feedback. You may decide to set up an anonymous survey or dedicate some time during a team meeting to discuss how the change is going. If you're a manager, it may be up to you to consolidate this feedback and present it to the executives at your company. 
Change should not be viewed as a one-and-done type of scenario. Instead, you should be continuously refining processes based on results and company feedback.
5. Share Success Stories With the Company 
Your coworkers are more likely to embrace change if you provide them with examples of how change can lead to positive results. After your new idea is implemented, consider sharing a summary of how and why you initiated the change. What results can be attributed to the new process or policy? Maybe your company has become more profitable since making the change, or maybe levels of employee satisfaction have increased. 
Connect with other leaders in the company to measure results, and share these successes (as well as any challenges) with the company at large. 
6. Encourage Innovation Among Employees 
According to Gartner, organizations have historically managed change from the top down, relying on executives to drive change initiatives. However, data shows that organizations may be more successful when they embrace ideas that come directly from employees. 
Motivating employees to introduce their own change initiatives involves creating company culture that values and encourages innovation. In PwC's 2021 Global Culture Survey, 72% of respondents said that company culture was helpful in enacting change. 
As a manager or team lead, you have the opportunity to foster a workplace environment in which everyone's ideas are heard and valued. By inviting your team members to share their ideas for improving the organization, you're inspiring change that can have long-lasting positive effects on the company. 
Related: 4 Strategies to Improve Company Culture
Help Your Company Achieve New Heights 
In today's digital landscape, it's important for companies to be receptive to new ideas. Managers and leaders who are well-versed in change management are uniquely positioned to guide their company through disruption. 
If you would like to learn about strategies that can help transform your organization, you may be a good fit for our Digital Leadership Certificate program. The program is made up of four online courses that equip you with the skills necessary to lead your company through change: 
Leadership in the Age of Digital Disruption

Artificial Intelligence for Business

Managing in the Global Digital Economy

Removing Barriers to Change in Organizations
Get in touch with us today for more information about the program.