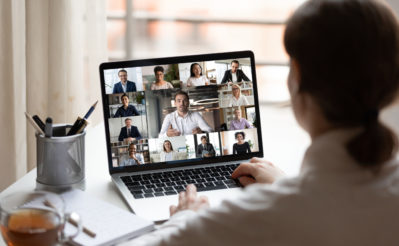 "Necessity is the mother of innovation," Plato is credited as saying. That's surely evident during the COVID-19 pandemic, which has driven technology innovation and adoption by companies, seniors and other groups.
In today's uncertain times, transformation is required to stay relevant. More than 100,000 small businesses have already permanently closed, Axios reports. Many big-name brands have filed for bankruptcy, including J.Crew, Gold's Gym, Hertz and Neiman Marcus.
With various stay-at-home orders in place since March, how businesses operate and how employees interact have changed drastically. Here are seven emerging technologies and innovations that have become popular during COVID, with many developments that may be here to stay.
1. Teleconferencing
Instead of canceling big in-person events, many brands have moved them online using teleconferencing tools. 'Forbes' reported in May that virtual events were up 1,000% since COVID-19 for the virtual platform 6Connex, which has hosted more than 52,000 events.
In-person events going virtual must now use technology for:
Communication
Exhibitor halls
Networking events
Small groups
Virtual lobbies
Some conferences have completely transformed their formats to fit an online environment. Instead of creating a multi-day conference experience online, for example, content is moved to a virtual summit platform to increase attendee engagement.
As some states continue to ban large indoor gatherings, expect conferences to pivot their models to accommodate registrants who are still interested in attending. For future conferences that haven't yet been developed, expect more to be designed with an online approach.
2. Digital Workplace Tools
During stay-at-home orders, most businesses that could enable remote work did. Even as stay-at-home orders were lifted in various states, many businesses have continued to support a mobile workforce. That requires using digital workplace tools for collaboration, including video meeting tools like Zoom and Teams and task management systems like Trello.
Another issue increasing the demand for digital workplace tools, especially for global businesses, has been travel restrictions during COVID. The Centers for Disease Control and Prevention (CDC) warns against nonessential travel. In March 2020, there were 40% less flights year-over-year, according to Flightradar24.
International travel for Americans is also restricted. The U.S. State Department has a Global Level 4 Health Advisory for international travel. The European Union has banned Americans from entering altogether.
Working from home and not being able to fly to in-person meetings has made video conferencing a popular way to hold work meetings. According to a May 2020 report by Global Market Insights, video conferencing market size is anticipated to grow at more than a 19% compound annual growth rate between 2020 and 2026.
One silver lining of video meetings for offices that are new to using them is that they give everyone an equal seat at the table. Every participant gets a similar screen experience. The virtual meeting set-up may encourage more contributions from all types of employees, which could drive innovation.
3. Restaurant Takeout & Delivery
Various states have had bans on indoor dining during COVID-19, forcing small businesses to adapt to survive. Statista reports the year-over-year decline of seated diners in U.S. restaurants was 65.47% in July 2020.
Not being able to eat inside restaurants has caused a surge in meal delivery. According to Barron's, spending on meal delivery services in April 2020 was up 70% year-over-year.
Restaurants are innovating to retain customers and attract new ones, even during this tough time for the hospitality industry, using strategies like:
New menu items: More restaurants are offering full family meals for pick-up, giving diners deals when they purchase a group of items for at-home dining. Also, be on the lookout for more travel-friendly menu items, foods that are more likely to retain their appearance and be reheat-friendly even after a car ride to someone's home.
To-go liquor: Restaurants are increasingly promoting take-home alcohol sales, like bottles of wine, local beers and even to-go handcrafted cocktails.
Easier online ordering: To retain more profits from to-go and delivery orders, restaurants have invested in revamping their branded online ordering systems. There has also been creation of new branded apps and the addition of ordering capabilities through social media channels like Instagram.
The increase of take-out and delivery demand is forcing restaurants to rethink their menu items, technology and customer service. Ultimately, it requires that restaurants listen to what customers want for a great at-home dining experience and delivering customer-friendly solutions. That means making ordering online an easy experience and ensuring accuracy and high quality of orders.
4. Grocery Delivery
Contact-free grocery delivery and pick-up services have become more popular during the pandemic. According to 'Supermarket News,' nearly 80% of U.S. consumers have shopped online for groceries since COVID-19.
With emerging evidence about the risk of indoor spread, and with many states still not requiring masks to be worn in public, ordering groceries online is a convenient and safe way to shop. Customers can find exactly what they're looking for quickly, without having to potentially expose themselves to COVID carriers.
Some supermarkets, like Walmart, eliminate the individual grocery delivery service charge when you pay for a monthly program. Grocers will need to innovate to compete for market share, whether it's in how their online grocery programs are structured or in the on-demand grocery offerings they make available. Food quality, product availability and order accuracy are also paramount in online grocery service success.
5. Telehealth
Going to the doctor posed risks of catching sickness before COVID-19. Now, getting quality healthcare while minimizing risk to coronavirus exposure is even more important.
Enter telehealth. Telehealth is using technology to facilitate patient-doctor relationships. Telehealth can enable patient care, advice, reminders and monitoring. According to the CDC, telehealth can be used for:
Screening patients for COVID-19
Providing low-risk urgent care and referrals
Providing mental and behavioral health services
Guiding patients through physical therapy
Following up with patients after care
In May 2020, McKinsey & Company reported adoption of telehealth was up 35% year-over-year. Some providers are seeing up to 175 times as many patients via telehealth than they did before the pandemic.
To retain business and provide clients with the care they need through virtual means, providers will need to use effective technology and employ meaningful ways of communicating with clients to ensure a high quality of care.
6. Online Workout Classes
In-person gyms have been among the hardest-hit businesses during the coronavirus pandemic, due to exercisers being in close proximity to each other in typical gym layouts and fitness classes. Stay-at-home orders also shuttered business for gyms during lockdowns.
Many gyms and fitness businesses like yoga studios have moved classes to online formats to continue to reach members. As online workout tools like MIRROR have doubled their sales during COVID-19, gyms and studios that want to remain open but that have seen a decrease in foot traffic are offering online classes, too.
CNN reports Sacred, a yoga studio with locations in Brooklyn in Manhattan, started offering $10 virtual classes on Zoom. Orange Theory started sharing free 30-minute videos online every day to keep exercisers engaged. For trainers who trained in gyms, some have moved their services online, as well.
Look to gyms that are staying open to offer online fitness in some capacity, whether it's group workout classes or free fitness tips to members.
7. Supply Chain Flexibility
Business shut-downs drastically affect supply chains. When one part of a global supply chain comes to a halt due to COVID-19, that affects everything else. Businesses have to be prepared for shortages, which have caused them to rethink supply chain strategy so that it's more flexible.
A report by Bain & Company shows some of the changes businesses have been forced to make to keep business running during the pandemic.
Increase inventory. If there's a shortage, extra inventory can cover temporary losses.
Find alternative suppliers. Increased competition and product shortages means businesses need to have more supplier options. When one supplier can't come through, having alternatives to call on is key. Bain & Company reports businesses with flexible supply chains increase output capacity by up to 25%.
Use the cloud. Cloud-based technologies provide visibility into the supply chain, so businesses can anticipate problems and pivot to minimize their impact. The cloud can also be used to access advanced analytics that improve forecasting accuracy and planning.
Effective supply chain management is key to keeping customers and clients happy during a pandemic. According to Bain & Company, companies that invest in supply chain resilience reduce product development cycles by 40% to 60%. Without effective supply chain management, it's easy to lose business to a competitor that can deliver.
Expect More Innovation During COVID-19
To sustain a solid economy during a global pandemic, businesses must embrace new models, services and operations. Digital tools can support these initiatives.
An increasingly stay-at-home culture, at least until a vaccine is developed, means consumers' needs are changing. Staying in business today requires evolution using technology, which also means brighter developments for the future.
To learn more, check out our fully online course, Managing in the Global Digital Economy.