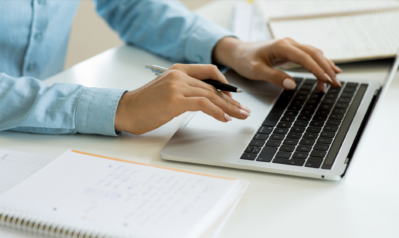 If you want to retain employees, you need to invest in their growth, learning and development. 
The current state of career growth opportunities is dismal. According to the July 2021 Monster Job Index:
80% of professionals don't think their current employer provides growth opportunities. 

54% of employees fear they don't have the skills they need to thrive in a workforce that emphasizes collaboration using technology. 

49% of employees expect their employer to support career growth. 
One way to help your employees grow their careers is to provide learning and development opportunities. Corporate training programs can be customized and taught by real university professors, giving employees the in-demand skills they need to succeed today and in the future. 
Here are five ways learning and development can benefit your business. 
1. Employees Want It
Learning and development are often named as one of the top benefits employees want from an employer. A study by Indeed found nearly one-third (32%) of tech workers said self-improvement, either through employee development or via tuition reimbursement, was the most-valued characteristic of their job. That benefit beat out health and wellness programs and in-office perks. 
A study of 2,000 professionals by Better Buys echoes that sentiment. The survey found:
92% of employees think having access to professional development is very important or important.

Employees with professional development opportunities have 34% higher retention. 

Employees with professional development opportunities are 15% more engaged at work. 
Learning and development can help you recruit better talent and retain employees. LinkedIn's 2019 Workforce Learning Report found 94% of employees said they'd stay at a company longer if it invested in helping them learn. 
Providing employees with learning opportunities can increase employee engagement. That's correlated with higher profits, lower absenteeism, better productivity and increased innovation. 
When you hire employees, you can develop career path journeys with them. Talk with employees about what their career goals are. Then offer training that can help them achieve their goals at your company. 
2. Upskilling Helps You Stay Competitive
Technology has quickened the pace of how skills need to evolve in order for workforces to stay competitive in a global economy. In-demand skills are changing so rapidly, the World Economic Forum predicts nearly half of core skills will change by 2022 alone. A 2020 report by McKinsey & Company stated that up to 40% of all workers in developed countries may need to move into new occupations or at least significantly upgrade their skills sets.
Upskilling is so important, the World Economic Forum launched a Reskilling Revolution in 2020. The initiative has a goal of providing 1 billion people with improved skills, education and jobs by 2030. 
Learning and development opportunities can fill in skills gaps at your business and combat any weaknesses your company may be facing. Instead of taking a risk and hiring someone externally who may not be the right cultural or professional fit when you need to address a skills gap, you can address that from within, plus save time and resources.
3. L&D Builds a Pipeline of Leaders
When you develop your employees, you can create a strong pipeline of talent. That means you can promote from within and cut down on costs for recruiting, interviewing, hiring, onboarding and training. 
Upskilling your current workforce can help you develop better managers and leaders. Your current employees know your company's vision, culture and operations. You don't lose out on productivity when you promote from within.  
Employees who see upward mobility in a company may be more likely to stay, too. The cost of employee turnover is at least 1.5 to 2 times an employee's annual salary, according to Gallup research. That can add up quickly the higher the position an employee is. 
As you train your employees and fill in skills gaps, you can optimize your hiring as well. You'll know exactly what your employees are capable of, so you can make new hires that complement your workforce's current skill set. 
4. L&D Encourages Innovation
Learning and development unlocks higher potential for your workforce. According to Deloitte research, organizations that have a strong learning culture are 92% more likely to develop novel processes and products. Training programs expose your employees to new ideas and ways of doing things, which they can apply in their current or future roles. 
Another way learning and development can lead to innovation is that it can reveal untapped talent in your employees. Your employees may not be aware of what their own strengths are. Training programs can expand employee knowledge and lead them to pursuing new duties and roles within your company that benefit your business's bottom line. 
According to Gallup, strengths-based development results in a 9% to 15% increase in engaged employees. It also contributes to a 14% to 29% increase in profits. Learning and development can help employees discover their strengths or enhance their current ones. 
5. Add Credibility to Your Workforce
Another benefit of corporate training programs is that they offer proof that your company invests in employees and strives to develop skills across the workforce. Upon completion of training programs, your individual employees can add certificates or credentials to professional profiles like LinkedIn pages. You can add badges and list credentials on your company website, as well.
This type of education acknowledgement may help your business:
Win clients

Attract better talent

Instill pride in your employees

Boost your profile within your industry
When you're looking for corporate training programs to use in your company, research ones that are taught by qualified instructors and that align with your business objectives. 
Interested in Corporate Training Programs for Your Business?
If you want to offer better learning and development opportunities to your workforce, check out Wharton Online. Our virtual corporate training programs are available for groups of at least 100 individuals and can be customized and scaled to fit your organization. We provide certificate programs that develop your employees' knowledge and skill set so your business can stay competitive and retain your top talent.
For more information, contact us online.