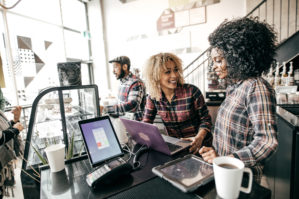 Small businesses are a vital part of the American economy, with 30.2 million small businesses making up 99.9 percent of American businesses and employing 47.5 percent of American employees. But a 2019 report by CB Insights shows the financial challenges many small businesses face:
44 percent of employer firms said credit availability or securing funds for expansion was a challenge in the past year.
60 percent of small business funding applicants received less financing than they applied for.
Financial technology developments are helping small businesses get established, scale and thrive.  Fintech gives small businesses more options than ever related to funding, payment processing, money transfer and more.
Global financing for fintech hit a new record in 2018, climbing to $39 billion, a 100 percent year-over-year increase, CNBC reports. Here's a look a six ways fintech is helping small business.
1. Payment Processing
Most retail customers prefer to pay with plastic today. According to a 2017 report by the Federal Reserve, 61 percent of Americans prefer to pay with debit cards or credit cards at local stores. Other digital forms of payment, like mobile wallets, are also emerging to provide customers with alternatives to paying in cash.
To make more transactions, small businesses must expand to accept debit and credit cards, and perhaps mobile wallet payments. But for many small businesses, bulky point of sale machines don't make sense to purchase and install. Mobile businesses especially, from food trucks to pop-up clothing stores, require easy-to-transport payment processors. Fintech to the rescue.
Mobile payment processing solutions are as easy as plug-and-pay options like tiny credit card readers that plug into a smartphone. Square, PayPal and PayAnywhere are some popular payment processing options for smartphones, tablets and other connected devices.
2. Ecommerce
Small businesses also have easy options to set up online shops. Ecommerce sales in the United States grew 15 percent in 2018 year-over-year, Internet Retailer reports. Retail ecommerce sales in the United States are expected to continue to grow each year through 2023, Statista reports, from $560.7 million in 2019 to $735.3 million in 2023. Small businesses have dozens of ecommerce platforms with dedicated support to choose from, including BigCommerce, Shopify and 3dcart.
Some small businesses are even adopting new forms of digital payment, like Bitcoin, a cryptocurrency that doesn't require the seller to pay fees. Microsoft, Overstock.com and CheapAir.com are a few companies currently accepting Bitcoin.
3. Money Transfer
American small businesses with international mindsets can engage in international money transfer, overseas payment acceptance and foreign exchange services powered by fintech, which cuts down on costly bank fees. Fintech companies operating in international money transfer use encryption to safeguard user data and follow legal requirements and regulations to keep customer finances safe.
WorldRemit, TransferWise, Kantox and CurrencyFair are fintech solutions offering secure and quick international money transfers.
4. Funding
Getting a small business loan is simpler and quicker than ever thanks to fintech. Instead of having to walk into a bank, lugging in boxes of paperwork and going through an extensive review process that could result in rejection, online lenders make securing a business loan easy.
You can even apply for a small business loan from a smartphone, thanks to services like Fundbox, Kabbage and OnDeck. Some fintech business loan services will approve you in as few as 3 minutes.
A glimpse into the future of small business funding happened in May 2019, when PayPal hit a new lending milestone. It has now provided $10 billion in loans to more than 225,000 small businesses worldwide within about five years. PayPal's vice-president of global credit said while it took PayPay nearly 2 years to give out $1 billion in small business loans, now the company is giving out more than $1 billion per quarter.
There is also a plethora of fintech equity funding options for startups and small businesses. Crowdfunding platforms like Crowdfunder, NetCapital and SeedInvest are some equity crowdfunding options for small businesses.
5. Accounting
Small businesses can save on accounting costs by using fintech solutions. Accounting fintech helps small business owners keep track of personal and business taxes, expenses, payroll and contractor payments, deductions and more.
Sage Accounting, FreshBooks and QuickBooks Online are all simple digital accounting tools that help small business owners organize their finances and access them from any device.
6. Customer Insights & Engagement
One major benefit of financial technology is that it provides businesses with rich insights into their customers. Payment processing fintech shows businesses consumer patterns and provides data about interests, wants and needs. Using this data provided by fintech, small businesses can improve their marketing for leads and current customers.
For example, Square provides free customer engagement features to merchants, including private messaging with customers, a customer directory where merchants can view loyalty activity, email collection tools and customer insights like customer visit frequency. There are also marketing features businesses can integrate with fintech payment processing, such as automated email campaigns and customer feedback requests on Facebook. Traditional POS systems don't offer these features.
Where Will Fintech Go from Here?
Fintech's growth in the past decade has made it a disruptor to small business barriers, like time-consuming bank processes, a reluctance to lend to startups and high costs for services like accounting. Fintech provides many advantages to small businesses, who can use financial technology to make processes more efficient, save money and better serve their customers.
Expect new fintech tools to make their way into small business application, like blockchain technology. Blockchain currently powers cryptocurrencies. Aberdeen reports businesses might use blockchain to verify sensitive transactions and authenticate users.
How fintech affects the small business world is just one aspect to the power fintech holds. To learn more about fintech, check out our new online specialization, Foundations and Applications of Financial Technology.