Wharton Online & Penn Medicine
Information Services Collaboration
Wharton is the only top-tier business school able to educate corporate workforces at scale. With over 3 million enrollments in over 30 online courses, Online Learning at Wharton offers more top-rated courses than any other leading business school. Penn Medicine Information Services is happy to offer one course, People Analytics, to you at no charge.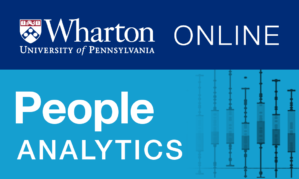 People Analytics
Discover how people-related data and sophisticated analysis can improve recruiting, performance evaluation, leadership, hiring and promotion, job and team design, and compensation.
People Analytics is a data-driven approach to managing people at work. For the first time in history, business leaders can make decisions about their people based on deep analysis of data rather than the traditional methods of personal relationships, decision making based on experience, and risk avoidance.
The course is 4 weeks of study, 1-2 hours per week, and delivered 100% online. Easily accessed through a computer, smartphone, or tablet; and adaptable to current knowledge levels. Upon completion, you will earn official recognition for your work, and share your success with friends, colleagues, and employers.
Interested in signing up?
Please register for this course no later than April 7th to take full advantage of Wharton Online.
If you have any questions please contact:

Kathryn Pischke
Director, Business Development Wharton Online
+1.215.746.2440
pischke@wharton.upenn.edu