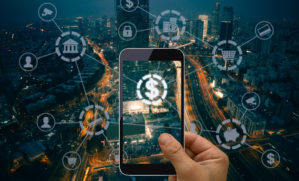 Financial technology, or fintech, is part of everyday life for many people around the globe. From online banking, to cryptocurrency like Bitcoin, to robo-advising for investments, consumers are increasingly likely to turn to technology for money management.
Consider these notable stats highlighting the rise of fintech:
The 2017 EY FinTech Adoption Index, a study of more than 22,000 interviews in 20 markets, found 33 percent of people around the globe have adopted fintech, compared with 16 percent in 2015. Half of global consumers use fintech money transfer and payment services.
A 2018 survey of 17,100 consumers in 17 countries by Deloitte found 73 percent of those around the globe use online banking at least once a month. There aren't any generational differences in how often online banking is used, with millennials and Baby Boomers being just as likely to use it.
In 2018, global fintech investment reached $39.57 billion across 1,707 deals, according to CB Insights.
Like any type of technology, financial technology is constantly evolving. Here are five fintech trends to watch in 2019.
1. Niche Robo-Advising Forces Financial Advisors to Improve Services
Robo-advising is the use of robotics to handle wealth management, through mathematical algorithms that support investment decisions. By 2020, up to $3.7 trillion in assets are expected to be managed with the support of robo-advisory services, Deloitte reports. That number will rise to more than $16 trillion by 2025.
This growth is shaping overall financial advisement in 2019. Expect human financial planners to adopt better ways to show their value, such as better tailored individual advice and greater risk protection.
Regarding robo-advising, investors who choose this route can expect more choice and control in robo-investments through niche robo-advisors. For example, those who are religiously bound or who choose not to invest in companies like tobacco and alcohol brands will be able to set those parameters.
There's more robo-advisor choice than ever. Investors who want to focus on sustainable brands can use robo-advisors like Sustainfolio to do so. ElleVest is a robo-advisor targeted to women. Expect more hyper-targeted robo-advisors like these to emerge in 2019.
2. Security Token Offerings Make Cryptocurrency More Mainstream
Cryptocurrency, a form of digital currency using encryption techniques for regulation, is expected to be embraced by more consumers in coming years.
According to the ING International Survey Mobile Banking – Cryptocurrency June 2018 study of 14,828 people around the globe, 8 percent of Americans and 9 percent of Europeans own some form of cryptocurrency. Out of the same respondents, 21 percent of Americans and 25 percent of Europeans expect to own cryptocurrency in the future.
Bitcoin is one of the most recognizable forms of cryptocurrency, but there are more than 1,600 cryptocurrencies in existence. In 2019, expect the continuous new development of alternative cryptocurrency platforms and more education on the cryptocurrency industry for those who are interested in investing in it.
Another cryptocurrency trend to watch in 2019 is the rise of Security Token Offerings (STO), which may start to replace Initial Coin Offerings, or ICOs. ICOs are the cryptocurrency version of crowdfunding, where a company gives a form of cryptocurrency in exchange for monetary project support.
STOs are more secure, since the digital tokens that are offered are backed by shares in a the company, investor benefits and dividends and are regulated by the Securities and Exchange Commission. STOs are projected to grow to $10 trillion by 2020, according to Money Morning.
3. Blockchain Extends to Lending and Investing
Blockchain is the public system in which cryptocurrency transactions are made and recorded. Blockchain makes the journey of a cryptocurrency like Bitcoin transparent. It's the public ledger of digital transactions, including those made using traditional currency on ecommerce platforms like Amazon.
In addition to finance, blockchain technology can be applied to monitor supply chains, manage loyalty rewards programs and even enable digital voting. In 2018, the use of blockchain technology to secure Internet of Things data doubled, Gemalto reports.
In relation to fintech, expect blockchain technology to extend to financial matters like lending, which can make the process of packaging, securing and trading loans more efficient. Blockchain can also apply to interest distributions, revenue shares, dividends and other lender/investor actions.
4. More Retailers Will Offer Mobile Wallet Transactions
We're constantly inching closer to becoming a cashless society. In 2019, 30 percent of adults never make a single cash purchase in an average week, an increase from 25 percent in 2015, CNBC reports. Of those who do carry cash, they usually have less than $50 at a time.
Even plastic is threatened as a form of payment, as 1 in 10 millennials uses a digital wallet for every purchase. Mobile apps like Apple Pay, Venmo and Zelle are making it easy to pay and send money with just a swipe of a phone.
Juniper Research released a study showing that 2.1 billion consumers worldwide are using mobile wallets in 2019, up nearly 30 percent from the end of 2017. This year, expect more retailers to offer mobile wallet payment. Already, big-name retailers like Walmart, CVS, Target and Starbucks are leading the charge by offering this type of payment to customers. Expect more mobile wallet integration with loyalty programs, as well.
5. Global FinTech Regulation Will Continue to Increase
The implementation of the European Union General Data Protection Regulation in 2018 was groundbreaking for fintech regulation. Any ecommerce business selling to customers in the EU must comply with strict privacy rules and must document processes and policies in order to protect sensitive customer data. Even businesses based in the United States needed to undertake a massive overhaul in ecommerce operations if they wanted to continue to sell to EU customers.
Expect the United States to propose similar fintech privacy measures. In May 2019, consumer advocates testified before the Senate Commerce Committee to provide input on a federal data privacy framework. A bipartisan working group of senators are currently drafting a bill regarding the issue.
Also, expect the emergence of more "regulatory sandboxes" in the United States, which enable financial firms to test products, services and business models in coordination with regulators. There is currently a fintech sandbox in Arizona, the first of its kind in the U.S. after sandbox openings in the U.K., Australia, Hong Kong and other countries.
More FinTech Trends Are Always Emerging
From the rise of artificial intelligence and chatbots in banking, to the use of cryptocurrency for crowdfunding, the world of fintech is constantly evolving with new trends emerging. Fintech is increasingly becoming a consideration for businesses of all sizes with customers in the digital age.
If issues like robo-advising, cryptocurrency, blockchain, digital transactions and fintech regulation interest you, you can learn more in the Wharton School's new four-course specialization, Foundations and Applications of Financial Technology.